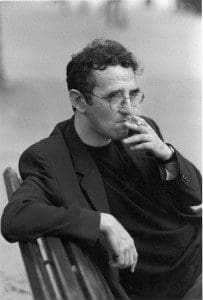 It's a little embarrassing to recognize, when reading Between Parentheses (New Directions; 352 pages) — a collection of Roberto Bolaño's essays, speeches and newspaper columns, translated by Natasha Wimmer — not only how little one knows of Spanish-language literature, but how much more Bolaño knew of English-language and European literature. Yes, he was on intimate terms with Poe (who could be seen as Borges' older brother from Baltimore — and Borges, writes Bolaño, "is or should be at the center of our canon"), but he could speak with equal authority on ancient Greek epic poetry, Provençal troubadours, and Snorri's Edda. One emerges from Between Parentheses with the desire to read more — to read more Bolaño, to re-read Borges, to discover Nicanor Parra and Enrique Lihn and Carmen Boullosa.
Always get the last word.
Updates and special offers straight to your inbox.
Keep up with the latest from ZYZZYVA by subscribing to our newsletter.
By subscribing, you agree to our Terms of Use and acknowledge that your information will be used as described in our Privacy Notice.
The collection, which comprises pieces written between 1998, when The Savage Detectives was first published in Spanish, and 2003, when Bolaño died, is divided into six sections. "Fragments of a Return to a Native Land" is titled after a long piece Bolaño wrote on returning to Chile for the first time since the military coup of 1973. Bolaño's writing about exile reminds one of Nabokov's; he asks, "Can one feel nostalgia for the land where one nearly died?" Bolaño was briefly captured by Pinochet's police and barely escaped with his life. Cowardice and flight preoccupy his writing, and when he says, "Better to lose manuscripts than to lose your life," I think of Bulgakov, who begged Stalin for exile. Manuscripts don't burn.
The next and lengthiest section is titled "Between Parentheses" after a column Bolaño wrote for the Chilean tabloid Las Últimas Noticias between 1999 and 2003, when he was ill and consumed with completing the towering 2666. Like any hard-working writer, he recycled material — many of the pieces he ran in "Between Parentheses" had been previously published in the Catalan daily Diari de Girona, where he was a columnist for a year and a half. Most of the pieces from both columns are reproduced in the collection. They are short and self-contained, each a vignette devoted to a single author, book, memory, or idea: an afternoon at the beach, Hannibal by Thomas Harris, a mistrustful sideward glance at Pablo Neruda's Memoirs. He was generous, using his column to lift up the work of his colleagues far more often than he used it to take potshots at them (as with Isabel Allende). He was given to superlatives. Carmen Boullosa is "the best woman writer in Mexico"; Enrique Lihn, "without a doubt the best poet of his generation"; Phillip K. Dick was "one of the ten best American writers of the 20th century."
Three short final sections with a few longer pieces each complete the work. "Scenes" takes us to places Bolaño traveled or was familiar with, "maps so the heart doesn't get lost." "The Brave Librarian" features longer pieces of literary criticism, including an essay on The Adventures of Huckleberry Finn that is the best thing in the book. "The Private Life of a Novelist" contains pieces about writing — the books Bolaño stole when he lived in Mexico City, advice on writing short stories (always write them in threes). In Natasha Wimmer's translation we recognize the salty, energetic prose of The Savage Detectives, a Bolaño who is hilarious, passionate, and raw, and sometimes both maudlin and glib ("like all great novels [Mantra]'s really about the passage of time, about the possibility and impossibility of dreams"). At his best, he cares enough to be precise, and his imagery is definitive. In a short sketch of Turgenev's Rudin, Bolaño writes of the main character, "not only has he found courage but also the burning bridge that links words and acts."
In the introduction, editor Ignacio Echevarría writes that "Fragments of a Return to the Native Land" forms the backbone of the collection, while "Between Parentheses" makes up its bulk. But "Fragments of a Return to a Native Land" is the soft palette of the book, and "Between Parentheses" is its gut — we slide past the one into the other without really noticing. The more powerful, longer pieces in "Fragments" and the last three sections are diluted and overwhelmed by the inclusion of all of the short columns in the middle. These pieces are sweet but on the whole unremarkable, wtedious to read straight through. They are uncannily repetitive in the way of fever-dreams — a raven keeps turning up, now croaking on Borges' grave, now caged in the studio of a 16th century Italian painter. Echevarría notes "it's important to stress the periodic nature of the columns gathered in this section, written at weekly or bi-weekly intervals." But presenting them one after the other in such a way that one column tends to begin on the same page the previous ends is precisely the way to not stress that. It robs them of their liveliness. It's like placing vases of dead flowers in every room and saying, "It's important to stress that these were once alive and beautiful."
How should Between Parentheses be read? Probably not all at once. It should be dipped into for pleasure, consulted like a thesaurus (if it were indexed and annotated, how nice). Did Bolaño have something to say about Swift? Autobiography? Mario Vargas Llosa? Sunscreen? Of course he did.