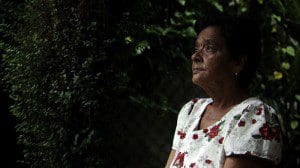 "The Tiniest Place," the remarkable documentary by Mexican filmmaker Tatiana Huezo, records the memories of the people of Cinquera, a small town in the mountains of El Salvador that was destroyed by the military during the Salvadorian Civil War. Huezo's debut film is compelling, formally and emotionally. ("The Tiniest Place" screened at the San Francisco International Film Festival.) We talked to Huezo about the evolution of her film.
ZYZZYVA: In the Q&A after one of screenings at the San Francisco Film Festival, you mentioned your grandmother was born in Cinquera. Perhaps we could start there and then talk about the origins of the film.
Huezo: My grandmother was the one who took me to Cinquera. She goes there often, and in one of my visits to her in El Salvador — I was born in El Salvador but grew up in Mexico — she asked me to go to Cinquera with her. She wanted to introduce me to some friends, to eat cuajada from her hometown. Cinquera made a big impression on me as soon as I arrived, an impression which stayed with me, this small place with just four or five streets, this quiet town in the mountains three hours from the capital.
Z: Your grandmother lives in the capital?
Huezo: My grandmother has been living in San Salvador for many years, but Cinquera is the town where she grew up, where all her friends are from. The old ladies there are my grandmother's friends. The woman who sings "El Pajaro Hermoso" at the end of the film is my grandmother's best friend.
Always get the last word.
Updates and special offers straight to your inbox.
Keep up with the latest from ZYZZYVA by subscribing to our newsletter.
By subscribing, you agree to our Terms of Use and acknowledge that your information will be used as described in our Privacy Notice.
So on the afternoon I arrived, I went out for a walk and walked into their church. It was a big empty room with barely any religious images on the walls. Instead there were rows and rows of portraits of guerrilla children, guerrilla teenagers, all dead from during the war, all very young. A tail of a military helicopter hung on one of the walls. In what kind of church do you find a helicopter mounted on the wall inside the church? This is what led me, I think, to want to know what had happened there.
The people of Cinquera were very open with me. From the start, people were telling me about things that had happened there, that their children had died, as if updating me on something I had missed by chance. I left that first time restless, knowing I wanted to come back and do more research. A year and a half later, after I'd saved some money, I returned and stayed there for two months.
Z: This is before you started filming?
Huezo: Yes, but I already knew then that I wanted to do a film there. In fact, on this trip, Ernesto, my cinematographer, came, too. But I stayed to meet people, to traverse the mountain from end to end, to find the characters of the film.
Z: You decided not to direct the camera at people as they narrate their stories. They tell their stories through voiceovers almost through the entire film. This seemed to me to give the film an uncanny intimacy, as if the relationship you had developed with the subjects was too personal to be set on camera. Could you talk a little bit about this decision?
Huezo: With one fleeting exception all the stories were only recorded with audio because of a formal decision made beforehand not to put a camera in front of people. I had a strong desire to experiment, to find a less conventional aesthetic approach to the subject. Form in a movie is half the movie. I wanted to film from the point of view of a ghost, because they live among ghosts. And the forest was an important element, too. "The forest is sacred to us," they told me. "The forest isn't just any forest but the tomb of our brothers and our parents and our children." I went back and forth about how to film this forest, and I thought that it could be from the point of view of a ghost, that one had to feel as if one was flying above the forest.
Z: Their voices do seem to hover over the forest like ghosts.
Huezo: And I felt like I was among ghosts, too. It was a strange and strong sensation. They speak of the dead and of strange things, of a double level of a strange reality. Elba [who is 72 and lost a daughter during the war and is one of the film's subjects], for instance, would tell me, "My daughter came to visit me today and she slept here." I thought, OK, one of her other daughters who rarely visits her came here. And then she would casually tell me she had been speaking with Aida. Aida? But Aida is her dead daughter. That's how they talk to their dead. Listening to them talking about the dead in such a casual way, in such an everyday way, something strange, magical — and dark at the same time — starts creeping in you.
Z: I was hoping to talk about Elba. What she says, questioning the purpose of — Well, here people like to talk a lot about redemption. But the impact upon her over the horrible things done to her daughter seems so irreversible.
Huezo: What happened to them is irreversible. And it isn't that we forget so we can live in happiness and be at ease in the world. That isn't an option for them, no? What I discovered from them is the capacity to carry this painful burden. There's a sense of wonder about life, this contradictory thing – pain and darkness, and life and laughter — and they go on, without forgetting the past, sowing their land, caring for their animals, educating their children. That is life, too. I think that's something special in this movie.
Z: I also was hoping to talk about Pablo. That sequence in the film when we see his library and all the books he's read, describing how they thought of the conflict in terms of coming to the realization there was an injustice. Pablo reminds us of how it all started.
Huezo: Pablo is a very special man. Absolutely committed with the times he's had to live. He worked very closely with the liberation theology priests when it was all beginning. In some ways he continues what he learned from them, hosting weekly meetings where people get together to read the Latin American Bible [a translation of the Bible with commentary from a liberation theology perspective] and help to anchor passages to the realities of the town. There's really no talk of religion. They talk about what's happening in the town, in the country, in the world.
I think Pablo carries a painful burden because he lost seven of his nine children. All of them died fighting, kids, while he was organizing the people, far from his family because he was persecuted. And I never wanted to pass judgment, I didn't dare to ask or pass judgment, about whether it had been worth it, this long war, so terrible, so much blood. I think the film distances itself from any judgment, although I think there's a clear point of view. But I never dared to talk deeply about any of this with him.
Z: There's a clear point of view but it never feels heavy-handed. You show us how it all started from the point of view of Pablo and you leave it at that.
Huezo: Pablo would say to me, "This is how they educated us, how the country used to be like before the war." The Church would tell them, What if there were no rich people, eh? Where would you go work? You would have starved already. The Church would tell them that the rich existed so they could exist, that if the rich didn't exist they would be even more miserable. And that they were miserable because God had ordained it so, and that the money you have is for the church, for cleaning the saints, that kind of thing.
An important story, for instance, is that before the war there used to be an organization called ORDEN, a paramilitary organization created by the far-right and military governments. All the men had to belong to it. They had these credentials and they would be sent to work the land, to inform on what was happening in their town; it was a way to keep an eye of them, to keep them subjugated. Pablo belonged to ORDEN. Everyone belonged to ORDEN. And then the liberation theology priests came and started making them realize that, no, they weren't going to heaven just because they were miserable, that it wasn't normal that their children were dying of hunger.
And so Cinquera was one of the first towns where a group of men, Pablo among them, said we don't want to be part of ORDEN anymore. They went to see the chief of ORDEN and said, we've come to quit. And the chief said, no, this is mandatory, you can't just quit. And Pablo told them, you figure out how to handle it, here are our credentials. We're only ten now but the rest of the town is coming behind us. And from that point on the military started tracking them. And soon after the military invaded the town and the men couldn't return. They had to stay in the forest. And then the war came.
Mauro Javier Cardenas is a San Francisco writer. You can follow him on Twitter at @ineluctablequak.