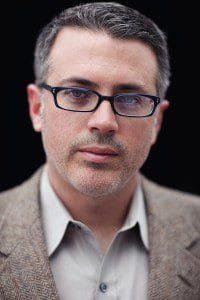 Fire Season, a first book from Philip Connors, is a memoir of the author's summers as a fire lookout in New Mexico's Gila National Forest. During fire season, Connors spends his nights in a Forest Service cabin and his days in a seven-by-seven-foot box atop a steel tower. He hikes, fishes, throws a Frisbee around with his faithful dog, plays endless games of cribbage. His only companions (apart from the musk deer and the occasional long-distance hiker) are literary — Gary Snyder, Jack Kerouac, Edward Abbey, Norman Maclean — all of them veterans of lookoutry. Connors records the day-to-day of one typical season (the book is organized like a journal, chapters headed April through August), remembers past summers and muses on nature and solitude, weaving in a surprisingly thorough discussion of conservation thought in America.
Connors will be touring the West Coast for his book from April 11 to April 14. (Find out more in our Other Events calendar.) He graciously answered ZYZZYVA's questions via email, even though some of them were extremely impertinent.
ZYZZYVA: Can you give us a tour of your cabin? Say we're standing just inside the front door; what's the first thing we'd notice?
Philip Connors: The first things you'd notice, just to your left, are my appliances: a propane refrigerator and a propane stove. These are the extent of my modern conveniences, and they're quite helpful in regards to quality of life. Beyond them is the wood stove I use to stay warm. Immediately to your right are a series of cubbyholes that hold various tools and supplies. Straight ahead is a small sink and a kitchen counter, with some cupboards for my food. Ahead on your right is a big table, and on the other side of a partition is the small bedroom where I sleep.
Z: How about the tower?
Connors: It is accessed through the floor, so the first thing you'd see is a sign that says: CLOSE TRAPDOOR IMMEDIATELY ON ENTERING TOWER, a very sound piece of advice.
Z: What inspired you to go to the New York Public Library's Berg collection and copy the notebook that Jack Kerouac kept during his stint as a lookout?
Connors: When you say the words "fire lookout" in America, the people who have some kind of reaction will mention Kerouac. This is natural, since he's the most famous lookout there ever was. He immortalized his experience in several books, including The Dharma Bums and Desolation Angels. He also wrote an essay about being a lookout that appeared in the collection Lonesome Traveler. In each instance the experience was rendered quite differently, so I wanted to see what the truth was, what he felt in the moment. I'd read about the existence of a journal he kept during his one season as a lookout in the North Cascades, so I figured — why not go straight to the source material? I'm glad I did. It's a remarkable document: raw, exuberant, filled with tremendous energy but also a crushing loneliness and despair that keep circling back over him. I thought I'd sit with the diary for an afternoon and make some notes, but I was so taken with it I spent three days writing like mad, copying every word of it into a notebook of my own.
Always get the last word.
Updates and special offers straight to your inbox.
Keep up with the latest from ZYZZYVA by subscribing to our newsletter.
By subscribing, you agree to our Terms of Use and acknowledge that your information will be used as described in our Privacy Notice.
Z: Did you ever feel anything close to the despair Kerouac evinces when he writes, "I'd rather have drugs and liquor and divine visions than this empty barren fatalism on a mountaintop"? Were you ever worried you'd go into solitude and find what he found — nothing?
Connors: No. I've had moments when the loneliness hurt a little, but never anything near the existential crisis Kerouac had. As I note, though, he spent 63 days alone on Desolation. I work ten-day stretches, then get a long weekend off back in town. This provides a balance of solitude and socialization. I think it's easier that way.
Z: The book has plenty of good advice for those who might come after you (leave the place better than you found it, have a hobby, sleep outside). What makes a bad lookout?
Connors: In the book I tell the story of a relief lookout who showed up on the mountain with his cell phone, expecting to be able to send and receive text messages. He didn't seem to comprehend that there was a place in the United States of America where this was not possible. If you're going to be a wilderness lookout, I'd recommend that you don't expect instantaneous contact with the outside world.
Z: How long, do you think, before fire lookouts go the way of "itinerant cowboys?" Do you think that, as long as the Gila remains a protected wilderness area, there will be fire lookouts?
Connors: Fire lookouts are a longstanding part of the culture of the Gila. As long as it maintains its core of roadless wilderness and some type of forest cover, lookouts will likely be needed here. It's an arid land that gets hit by lightning more than any other place in America besides the Gulf coast of Florida. It's destined to burn, always has. And now it's become something of a laboratory for reestablishing peaceful coexistence between humans and fire.
For more than three decades, forest officials have been experimenting with the practice of allowing some lightning-caused fires to burn themselves out. Sometimes these fires last days, sometimes weeks, even occasionally months. Sometimes they burn a half an acre, sometimes tens of thousands of acres. We can get away with it here because of the wildness of the place: human lives and property are often not at risk. I'd like to think we lookouts can be helpful so long as forest officials are committed to the idea of the Gila as a fire-adapted ecosystem.
Z: Do lookouts have a role (besides their obvious, primary one) in conserving the areas where they're stationed, perhaps simply by witnessing?
Connors: In Jack Turner's great book of essays, The Abstract Wild, he wrote: "Many of our best writers on wilderness—[Edward] Abbey, [Gary] Snyder, [Doug] Peacock—worked as fire lookouts for the U.S. Forest Service. There is probably a doctoral dissertation here: 'The Importance of Fire Lookouts in the Development of Western Nature Literature.'" I think he's right. Lookouts, by being stationed in a fixed location for long stretches of time, have the luxury of becoming intimate with wilderness in a way most people do not.
We can't help becoming amateur phenologists: noting when the aphids hatch, when the irises bloom, when the broadtailed hummingbirds arrive. We detect patterns. We touch the ancient mysteries of life in the wild. We may even learn to see in new ways — more closely, perhaps, and deeper into geologic time. If we're lucky we get close to learning how to "think like a mountain," in Aldo Leopold's great phrase. I think we'd do well to bring this knowledge back to the culture we come from, even or especially if that culture seems increasingly heedless of that type of knowledge.
Z: Your tower on Apache Peak is inside the "wilderness boundary" — you quote from the Wilderness Act: "a place where motorized and mechanized machines are forbidden and 'man himself is but a visitor.'" How do you personally define wilderness?
Connors: The Wilderness Act is, among other things, an unusually lovely piece of writing for an act of Congress. We should also admit that its definition of wilderness was a human construct, and the thrust of its effort was a rearguard action — a way of preserving a few remnant pieces of our natural heritage from the onslaught of Industrial Age tools. It is possible to find wildness — as opposed to wilderness — in a few shoots of grass in a neglected corner of an alleyway in New York City. Wilderness, on the other hand, seems to me to mean something deeper, bigger, and more profound: a place where we can experience the world as we were given it, with its native flora and fauna still intact and thriving, the great dramas of evolution still ongoing.
Z: What do you see as the biggest threat to the health and preservation of the Gila?
Connors: There never fail to be people with bad ideas for the Gila, such as damming the Gila River in the name of "economic development" and all the usual Chamber of Commerce prattle. But the real long-term threat is human-caused climate change. The Gila is a warm, arid place to begin with. Were the average annual temperature to increase by several degrees Fahrenheit that would surely spell doom for the forest as it currently exists.
Z: What's with all the cribbage?
Connors: I don't have a telephone, a television, or an Internet connection—but I do know well that great card game played by residents of cold climates, in order to keep themselves amused through the long winters. It's something to do when visitors show up. It keeps the mind sharp. It adds a pinch of competition to a way of life otherwise devoid of it. It can be a pleasant way of passing the time.
Z: Will you be back in the tower this summer?
Connors: Yes. One more summer makes it an even decade. But don't come looking for me. I've changed the names of landmarks to confuse the curious. Anyone who reads the book closely should find this self-explanatory, but I'll say it anyway: The book is not a cry for visitors.