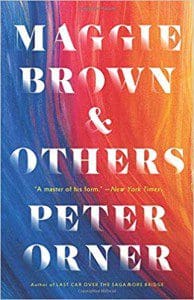 In an age of instant reactions and hair-trigger controversy, Peter Orner is a writer who slows things down, living up to Susan Sontag's admonition that "the writer's first job is not to have opinions but to tell the truth…and refuse to be an accomplice of lies and misinformation.''
Born in Chicago, he graduated from the University of Michigan and the University of Iowa Writer's Workshop. A former professor and department chair at San Francisco State University, he is now a Professor of English and Creative Writing at Dartmouth.
Orner's eclectic body of work includes the novels The Second Coming of Mavala Shikongo and Love and Shame and Love; an essay collection/memoir, Am I Alone Here? Notes on Reading to Live and Living To Read, which was a National Book Critics Circle Award finalist; and three short story collections: The Esther Stories, Last Car Over The Sagamore Bridge, and the just published Maggie Brown & Others: Stories (Little, Brown and Company).
He's also somehow found the time to edit three non-fiction books for the Voice of Witness Series: Underground America: Narratives of Undocumented Lives, Hope Deferred: Narratives of Zimbabwean Lives (co-edited with Annie Holmes), and Lavil: Life, Love and Death in Port-Au-Prince (co-edited with Evan Lyon). If you need something done, ask a busy man.
The new book's title story, "Maggie Brown,'' about the narrator's lost romance with a college girlfriend, is vintage Orner. "A few years ago I saw her at a Minneapolis airport,'' he writes. "She looked right at me, didn't know me from Adam, and marched onward. Maggie Brown in a business suit…You end up forgetting the people you shouldn't and remembering the people who've forgotten all about you.''
Peter Orner answered questions about Maggie Brown & Others (and other matters) via email:
ZYZZYVA: I was struck by the ambition of Maggie Brown & Other Stories. It seems like a quantum leap forward, given the five separate sections, linked by mood but not subject, and the ambitious closing novella, "Walt Kaplan Is Broke.'' Did you feel a special urgency as you were writing the pieces, and putting them together, given the times we live in and your own sense of where you are as a writer?
PETER ORNER: Did someone once say, 'Write each book like it's your last?' I'll say it: Write each book like it's your last. I'm not sure I was responding to our strange life and times, but maybe I was without quite knowing it. I've always tried to see stories as somehow floating above my present day concerns. Or maybe floating above isn't the right phrase. Existing separate? A kind of alternate reality, one that has more to do memory than it does the present?
Though many of these stories I've been working on for many years, I wrote and re-wrote much of this book while living in Namibia for two years between 2016-2018. It helped to be away from the circus, and maybe this helped me concentrate a little better. If there was urgency, it was informed by a particular Namibian kind of urgency. In Namibia, when someone says they are coming now, they might come in a few hours, maybe a few days. But when they say they are coming now now, then they'll be right there. I guess I wrote this book under the spell of now now.
Z: You dedicate the book to your family, and to the late African-American novelist and essayist James Alan McPherson (author of the short story collections Hue and Cry and Elbow Room), a writer who is too often overlooked these days. Can you talk about your relationship and his influence on you?
PO: Jim McPherson was a professor of mine at the University of Iowa. An essential American writer, and we overlook him at our peril. He was also among the kindest and most generous people I've ever had the privilege of knowing. He didn't so much teach as guide. And he was less interested in writing than in what connects us and make us human – together.
I've told this before in greater detail, most recently in an essay about McPherson in The Believer, but he once taught a class that revolved around Richard Jewell, the security guard who was wrongly accused (by the FBI, I believe) of bombing the Atlanta Olympics. The theory was that he planted the bomb in order to rush in and save people because he had a hero complex. Turned out: he was just rushing in to save people. He was a goddamn actual hero. Jim was fascinated by this story, and what it said about us as a society. He couldn't get enough of examining what makes us do humane, and inhumane, things.
Z: You're from the Midwest, but like many self-driven exiles, you were pulled West. The epigraph to the first section of the book is from Jack Spicer, another too-neglected poet:
"Come back to California, come back to California / every mapmaker, every mapmaker is pleading.'' Now you're back East as a professor at Dartmouth, after teaching for years at San Francisco State. But I'm wondering if you think it's even possible to connect to this complicated state. Or is it just a state of mind?
PO: I lived nearly twenty years in California, in both San Francisco and Bolinas. Funny, I always felt like a Midwesterner misplaced in California. Now I feel like a Midwestern Californian misplaced in New England. (If I went home to Chicago again, I'd feel like a Chicagoan displaced in Chicago.) What I love about this beautiful line of Spicer's is the idea of the mapmakers pleading for one's return to California…
I'm not entirely sure what he means, but I love it anyway. We know that mapmakers aren't exactly unbiased, right? Is there something about the way California looks to us on the map that pulls us there? This idea spoke to me as I was working and pining away for the Pacific.