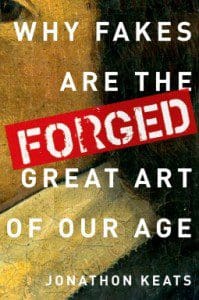 Interviewing your spouse might sound a little strange, but I've done worse. I've translated him. Several years ago Jonathon Keats published a collection of fables, The Book of the Unknown (Random House), and I translated the book into Italian. As an experienced literary translator, I found it exciting to have "my" author sitting next to me during the translation process. I could ask him any question I wanted, and I could tell him when I didn't like his answers. Now that he's published a new, non-fiction book – Forged: Why Fakes Are the Great Art of Our Age, which just came out for Oxford University Press this week – I've welcomed the chance to ask him some questions that he was genuinely interested in answering.

In Forged, Jonathon Keats (who, besides being my husband, is also an art critic, journalist and artist) explores the role of the counterfeit within the history of art, starting from the assumption that "forgers are the foremost artists of our age." Why? Because by challenging the concept of "legitimate" art, they provoke and explore our anxieties, which is what art should always do.
After describing past attitudes toward forgery that were very different from our own, he  tells the fascinating stories of six modern forgers and concludes by looking at how artists today have appropriated many aspects of forgery, and how open-source "copyleft" strategies have the potential to make legitimate art meaningful again.
I've begun the interview by trying to find some connection between the art forger and the fiction writer.
Silvia Pareschi: You have already published two novels and a collection of fables. Do you see a connection between your fiction and Forged?
Jonathon Keats: Writing fiction is one of the few forms of counterfeiting that our society permits. The reason, I think, is that the fakery is blatant, announced right on the cover of the book. If it isn't, as in the case of James Frey's deceptive memoir, A Million Little Pieces, readers feel betrayed and the author is punished. But if readers know they're playing a game of make-believe, the trickery doesn't seem threatening.
This game of make-believe really appeals to me as a writer because it requires readers to explicitly set aside everything they know, much of which may not be true. The imagination is exercised, and I believe that makes us more open-minded when we return to our everyday lives. We're prepared to consider points of view other than our own.
Of course relatively few people read fiction. The vast majority simply have no interest in fantasy, and those who are most resistant are probably the ones who are least receptive to alternate perspectives in the first place. So it seems to me that the potential impact of fiction is rather limited.
And that's why a case like the James Frey debacle is so interesting. A lot of people were drawn to the memoir who never would have read it as a work of fiction. Perhaps they even empathized with Frey's alleged drug addiction. Then the scandal broke and people realized they'd been had, which inadvertently added another layer to the book. Even those who couldn't care less about Frey's story were forced to reflect on the reasons why the fraud worked. People were compelled to question their belief in the written word and printed book.
In a way, that makes Frey one of the foremost authors of our time. As a fellow fiction writer, I'm a little bit envious. And as an art critic, I can't help but notice that art is in trouble for many of the same reasons that fiction is challenged. Like Frey, art forgers deserve serious consideration for their underhanded counterfeiting.