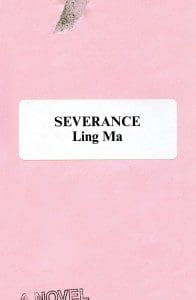 With Severance (304 pages; FSG), author Ling Ma delivers a fascinating coming-of-age novel, one full of millennial culture, post-apocalyptic adventures, and, perhaps most exciting of all, a zombie-like populace.
Severance opens in New York City, where protagonist Candace Chen works for a Bible manufacturer called Spectra. Throughout the novel, Candace finds plenty of reasons to leave her job, even as she clings to the city that feels so close to her. But after experiencing the strife of the Shen fever, a pandemic which reduces people to automatons who slowly waste away, she ends up traveling far away from an emptied New York with a group of survivors looking for safety.
Always get the last word.
Updates and special offers straight to your inbox.
Keep up with the latest from ZYZZYVA by subscribing to our newsletter.
By subscribing, you agree to our Terms of Use and acknowledge that your information will be used as described in our Privacy Notice.
Interestingly, consumerist culture is a big theme in the novel. The story makes constant references to specific skincare brands, products, stores, and other consumer-related items, giving in-the-know readers something to connect to. However, Ma seems to raise the question of whether even having this connection is a good thing. She presents us with characters of contrasting lifestyles, allowing us to reflect on our society's sense of materialism and attachment. As the characters' varying levels of consumption and wealth create barriers between them, it's easy to ask ourselves to reevaluate how healthy our level of consumerism is, and to what extent dependency on the things we buy is permissible.
Throughout her first novel, Ma alternates between multiple perspectives. Candace narrates every other chapter (with one exception), with the timeline jumping between pre- and post-apocalypse, illustrating Candace's development as a character. In juxtaposing her attitudes before and after the end of civilization as we know it, Ma emphasizes Candace's diminishing attachment to the city and all it has to offer, and at the same time demonstrate her renewed growth as she takes on challenges with her fellow survivors.
Yet even as Candace becomes more independent, her past continues to haunt her at every turn. There seems to be the implication that nostalgia for what used to be might be putting Candace at risk, as she reminisces on times spent with her her mom, who immigrated to the U.S. from China, and others before the Shen fever destroyed their world. Toward the end of the novel, we wonder how this state of mind will affect Candace as she reaches her final, fateful decisions.
Severance wonderfully demonstrates how the lifestyles we lead now can have a great impact on our future, and not just in terms of what we buy. Ma also takes a unique and sometimes comedic look at the commonly superficial relationships we have with our acquaintances, especially in the workplace. She shows how this lack of depth in communication with others is reflected in our relation to consumerism and the capitalist system as a whole. But its all done with a pleasingly light touch, despite the story being heavy with death and addressing the pressing issues of our times.