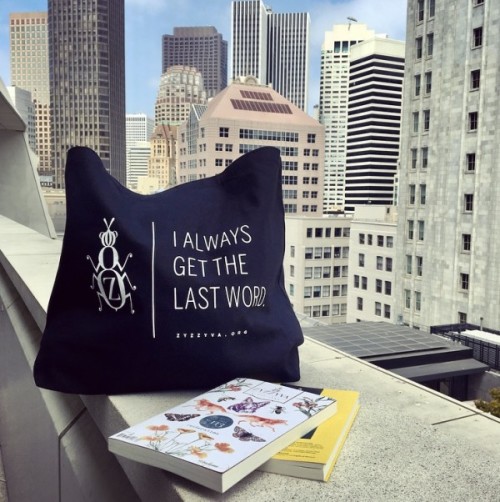 Whether you're heading back to school or merely bracing for the BART commute, ZYZZYVA has you covered with our special Tote & 4-Issue Subscription Bundle. For little more than the price of a regular subscription, you'll also receive one of our new and beautifully designed tote bags, handy for both taking several books (or issues of the journal) with you on the go, and letting those on the street know you Always Get the Last Word.
Always get the last word.
Updates and special offers straight to your inbox.
Keep up with the latest from ZYZZYVA by subscribing to our newsletter.
By subscribing, you agree to our Terms of Use and acknowledge that your information will be used as described in our Privacy Notice.
Your Subscription will begin with Issue No. 113, our special issue centered around themes of Environmental concerns & conservation. Our first issue featuring full-color artwork throughout is adorned with the beautiful watercolor paintings of Oakland artist Obi Kaufmann, and makes for ideal reading at home, on the bus, or at your favorite coffeehouse on a crisp autumn day. Grab your Tote & 4-Issue Subscription Bundle today!