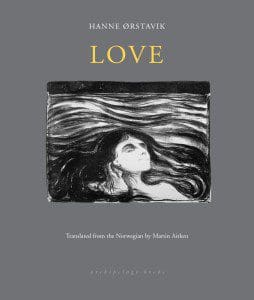 The boldly and rather ironically named Love (125 pages; Archipelago Books), written by Norwegian author Hanne Ørstavik, was originally published in her native country in 1997. Twenty years later, it has now been translated into English by Martin Aitken and is being released in the United States by Archipelago Books, perhaps in part due to the steady demand here for dark, noir-like literature out of Scandinavia.
Exploring many opposing themes, including hope, disappointment, longing, and unrequited love, the novella tells the story of Vibeke and her young son, Jon, who have recently moved to a secluded town in the northern reaches of Norway. The action of the story takes place over the course of just one day as mother and son go off on their separate journeys. Ørstavik invites the readers into her two characters' innermost thoughts, seamlessly switching back and forth between their perspectives— often within the same paragraph. Their stories unfold breathlessly close together on the page, suggesting the strong link between mother and son that Vibeke's actions betray.
Always get the last word.
Updates and special offers straight to your inbox.
Keep up with the latest from ZYZZYVA by subscribing to our newsletter.
By subscribing, you agree to our Terms of Use and acknowledge that your information will be used as described in our Privacy Notice.
It is the day before Jon's ninth birthday and he spends the majority of it by himself. He takes Vibeke's absence to mean she is busy planning a special celebration for him, but as readers we know this isn't true; her designs are much more self-involved.
Though it's easier to be angry with Vibeke rather than sympathetic, her deep loneliness and insecurities are apparent. Her character proves selfish and single-minded: she doesn't think about what it takes to be a good mother, she wants to find a man. To that end, she cares about being beautiful; her needs come before Jon's. In contrast, Jon constantly thinks of his mother. He wonders where she is, what she's doing, and fantasizes about his birthday cake and the train set he hopes to receive.
As their nights progress, a creeping sense of tragedy brews within the story. Vibeke spends her evening bar-hopping with a man she met at a traveling carnival, while Jon bounces from stranger to stranger, accepting their offers to stay warm. Though Love is only one hundred and twenty-five pages, its careful craft and beautiful details make it worth savoring—right to its haunting but inevitable conclusion.