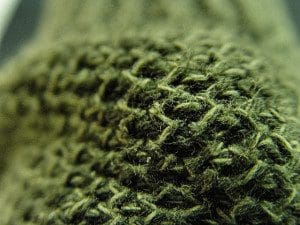 Date: 15 February
To: All Quest Industries Employees
From: Judy Kemper, Vice President of Marketing
Always get the last word.
Updates and special offers straight to your inbox.
Keep up with the latest from ZYZZYVA by subscribing to our newsletter.
By subscribing, you agree to our Terms of Use and acknowledge that your information will be used as described in our Privacy Notice.
Subj: Lost cardigan—please help!
I seem to have misplaced a very important sweater and I'm almost certain I left it here in the office this past Friday. If you have seen my lime green Laura Ashley cardigan, size M, with pearl buttons, a small-to-medium gravy stain on one sleeve (left), and one frayed cuff (right), please tell me where you spotted it, and if this information leads to its recovery, I promise to give you a reward of your choosing, up to $10 in value. I do wish it could be more, but unfortunately, my husband and I are on a tight budget this month, due to expenses incurred when a tree fell on our car last Wednesday evening during a thunderstorm and another tree, unbelievably, fell on our roof less than an hour later!
What are the odds? And what on heaven and earth is going on with our karma? Not that I believe specifically in karma or anything related to the Hindu faith, but it does seem as if something strange is going on here.
By the way, if you choose to forfeit your reward for locating my treasured cardigan in light of Glenn's and my current financial situation, I will be happy to repay the favor by searching high and low (for up to 15 minutes) if you ever lose anything of sentimental or monetary value in this office and are desperate for help finding it.
If anyone here at Quest Industries actually does know how to calculate the odds of a tree falling on your car and another tree falling on your roof less than an hour later, I'd be very interested in hearing what they are.
Here is some more information for the math nerd(s) among us: We have six trees on our property (well, four now, technically) and they are all about 50-75 years old: two birch, one maple, two evergreens, one gingko. There was a squirrel's nest in the maple, and an unidentified bird's nest in the gingko. The maple was the first tree to fall (on the roof) and the blasted gingko fell on the car approximately 48 minutes later. The car was parked in the driveway, about 8 yards from where the tree fell on the roof. The gingko and the maple were on opposite sides of the front yard and did not have overlapping root systems, as far as I know. Also, according to my mother-in-law, the gingko tree was haunted.