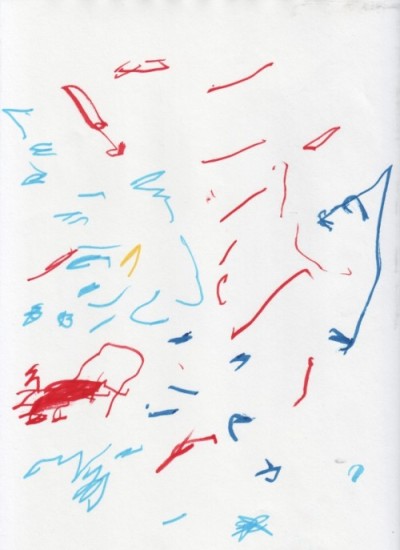 Dean Rader is a professor of English at the University of San Francisco. His most recent poetry collections are "Self-Portrait as Wikipedia Entry" (Copper Canyon Press) and "Suture" (Black Lawrence), written with Simone Muench. You can see him in conversation with other ZYZZYVA contributors tomorrow at East Bay Booksellers. Two of Rader's poems are featured in ZYZZYVA No. 111. Presented here in its entirety is the poem "Still Life with Cacography":
"If some of those wonderful people had guns strapped right here— right to their waist or right to their ankle—and one of the people in that room happened to have it and goes 'boom, boom,' you know, that would have been a beautiful sight folks."
—Donald Trump, four days after the Orlando Pulse shooting
We are in the car. My son Henry, who is four, asks, Dad how do you spell fart? I answer: H-E-N-R-Y.
To which he screams No! And before I can say anything else it's
Dad Dad Dad what does hkjurotha spell, and I, having played this game before,
Always get the last word.
Updates and special offers straight to your inbox.
Keep up with the latest from ZYZZYVA by subscribing to our newsletter.
By subscribing, you agree to our Terms of Use and acknowledge that your information will be used as described in our Privacy Notice.
know better than to say that isn't a word, so I say hook joo rotha, and he laughs, and then, Dad Dad what does ggtdxererererererhenruururur spell?
And he pauses for a second when I say ice cream, and he laughs even harder, and I want to believe he knows I'm teasing, and so when he says
Dad Dad Dad what does 4thy9998rgbvvvvvvvvv17 ortyhggggavin spell? Without pausing I say the name of his most loved stuffed animal,
and this goes on for many minutes, many miles, and later, I am listening to something else and have forgotten the game, the trees, the houses.
The bikers blur by like sentences we have jettisoned, which is why
he is confused when I answer nothing to his question of what the string
of letters and numbers he has placed together might signify, for he believes that every possible combination of letters makes a word, and I begin to think how
lovely that would be if the nearly in nite number of alphabetical arrangements had a corresponding word, like ifvzmoohj for "seeing the moon in the afternoon"
and wtiuklp for "Judy's face after lemonade" or bnvaremc for "the distance between Cork and Limerick by wagon," a different word for a different
day of his life, a word for every time I lose him at a park or in the store, a word for the uneaten grape on his plate, for the green monster
in his dream, the word for what it feels like when you are four and do not know the word for what you have lost. And I ask him
how you spell the word for when you talk to your dad and he
does not answer, and he says I don't know, and I say how do you spell
the word when you call to your dad and he does not come, and there
is something again on the radio, and he says Dad how do you spell bam?
And then, Dad how do you spell pechew pechew pechew pechew?