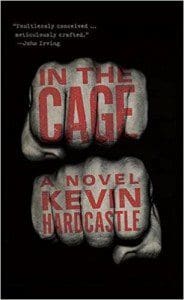 With In the Cage (309 pages; Biblioasis), Kevin Hardcastle drops the rural noir genre into the ring of literary fiction. Hardcastle, winner of the Trillium Book Award and ReLit Award for Short Fiction, has created a novel where crime fiction and the literary tradition occupy the same space. In the Cage tells the story of conflicted characters with complex relationships navigating violence and its consequences against the morally gray backdrop of remote Saskatchewan.
Daniel is a caring but stoic husband and father whose mixed martial arts career ended twelve years earlier with a detached retina. He and his wife now live in near-poverty with their daughter. Unable to find steady work, Daniel moonlights as hired muscle for a local gangster. When a money collection gig turns more brutal than delivering one-two punches, Daniel grapples with the true cost of the path he's chosen to provide for his family. Returning to the gym gives him distance and sanctuary from his problems, but his time spent training is overshadowed by the presence of a chilling, pale-eyed villain whose sadism intimidates even the most hardened criminals.
What's perhaps most notable about In the Cage is its unflinching look at the destructiveness of violence. Hardcastle's descriptions are clinical yet shocking. A shotgun blast erupts and "One part of the man flew skewered with rib-bone." Punches flatten noses. A throat is slashed and "it seemed like all he had in him had exited the body through that cut." Hardcastle's descriptions are free of gusto and provide just enough detail for them to act like a chokehold on the reader.
Always get the last word.
Updates and special offers straight to your inbox.
Keep up with the latest from ZYZZYVA by subscribing to our newsletter.
By subscribing, you agree to our Terms of Use and acknowledge that your information will be used as described in our Privacy Notice.
The author is clearly knowledgeable in the area of mixed martial arts. During Daniel's training and fight scenes, the various punches, kicks, and submission holds are elaborated on with enough sensory detail that even readers unfamiliar with blood sport will be able to feel them. These sequences serve double duty, providing just as much insight into the characters as into their fighting ability. Daniel's interior and the expression of his will are narrated with deceivingly simple, Hemingway-esque prose. "Blood and sweat sprayed the canvas and their feet atop it," for example, or when Daniel kicks a heavy bag in his basement, Hardcastle describes the sound like "a nail being hammered into the hollows of the place."
The remote Canadian setting evokes the hardships of rural, working-class life. Daniel and his family live in a perpetually cold, blue-collar necropolis of rust and poverty. His worksite is, "Acre upon acre of frozen ground with muddied swaths in the white." And in my favorite line of the novel, we read, "There he thumped the gas pedal and the tires threw broken chips of brittle tarmac as he went townward through cold and lightless country." With passages such as these, one not only feels the mood of desolation but also a hushed metaphysical horror akin to Cormac McCarthy's Blood Meridian.
Apart from the carnage, In the Cage is also a touching, multi-generational reflection on family values. Some of the best scenes feature Daniel's elderly neighbors, Murray and Ella. Their kindness and moral expectations serve as prescient warnings to Daniel in a place where poor choices are paid for dearly. Even so, readers are likely to sense Daniel won't heed his neighbors' warnings, and that the novel's bloody denouement will not end with a knockout.
Genre fiction is often criticized for its recurring tropes and boilerplate plots, but Kevin Hardcastle's novel proves otherwise. In the Cage is both fresh and haunting. It is a novel of grace and brutality, and the balance between them.