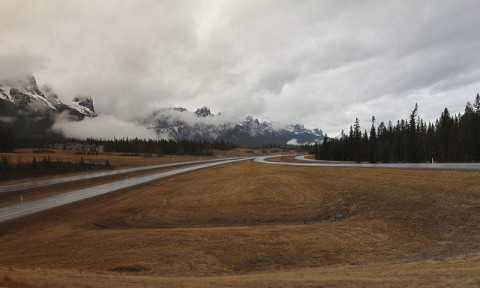 Kristopher Jansma is the author of the novel "Why We Came to the City," published by Viking. His story "Chumship" appeared in ZYZZYVA No. 105. Presented here is an excerpt from his story "The Corps of Discovery," which you can read in its entirety in ZYZZYVA No. 111:  
We had a long way to go—this was the last comment my father made as we left Natalie's house and eased westbound onto the interstate. He'd been over the route with me several times. St. Louis to Portland was just over two thousand miles. Six states, thirty hours. We'd stop in Nebraska that night, make it to Utah by the following day, and complete the trip late Sunday. All that time and distance stretching out on the other side of the y-spotted windshield was as real to me as the weight of my sister's remaining things, stacked neatly in the truck behind us.
My father scratched at his beard as we drove out toward the edge of the city. I picked a blister forming at the base of my index finger. I was supposed to be back home in the Bronx, planning lessons. By early Monday morning, I'd be teaching eighth graders about Lewis and Clark, those explorers who, two hundred years ago, had set out not far from where we now drove. Following the Missouri River across a newly purchased Louisiana in search of a Northwest Passage to the Pacific.
"I-70 turns into I-29, then I-80," my father said. "It's almost a straight shot, really."
Through the scratched window I looked out into the dark country for the green glint of mile markers. One every tenth, ticking down the distance. My father had taught me about these back when I'd first learned to drive, before GPS. Even now he would not turn on the location setting on his phone. Was there any reason for T-Mobile to know where he was every minute of the day? He was this type of father. Who'd delicately unfolded a broad white aaa map across the U-Haul's hood before leaving Natalie's. Even though we were traveling in "almost" a straight line. But we had to be ready for accidents—other people's accidents. People were not to be trusted. Or, rather, they could only be trusted to be ill-prepared and unreliable.
Always get the last word.
Updates and special offers straight to your inbox.
Keep up with the latest from ZYZZYVA by subscribing to our newsletter.
By subscribing, you agree to our Terms of Use and acknowledge that your information will be used as described in our Privacy Notice.
Didn't I remember the white Escalade, back on our trip to visit colleges? He'd bring this up soon. He did every time. How it had flipped as it tried to pass us at a hundred miles per hour. Like a great whale in the air ahead of us. If my father hadn't been quick, it would have hit us.
And what about that old VW bus that had fishtailed right in front of the motor home we'd owned, back before Natalie had even been born? I'd been three, and could barely remember the RV, let alone the "hippie bus"—but I did remember it. Or I had grown up hearing the story so many times that it became the same thing.
I waited for my father to begin retelling these stories, but he was quiet.
Dry brown trees, cold and narrow, slipped by one after the other. I huddled inside the old army jacket that I'd found in Natalie's closet. It had been mine before she'd stolen it. Now I guessed it was mine again. Heat spread slowly from the vents. Outside, in ashes of green, mile-tenths went by and went by and went by.
* * *
My father bought the Powerball tickets at an unusually festive rest stop in Kansas City. The whole place was decorated with chili pepper lights and sombreros. My father made no comment about this and neither did I. We hadn't spoken in an hour and a half. We'd just driven along, rubbing sore hands and stretching sore backs. I had inherited the same extra vertebrae that had him at the chiropractor all the time when I was younger. He always used to tell me how sorry he was about that. He used to warn me that it would start to really give me hell when I got older. But not this time. Just listening to Natalie's furniture shifting in the back of the truck. Smelling air freshener and listening to the radio.
"It's actually just 'Eagles'… not 'The Eagles,'" my father would say when they came on the radio. Always like it was new information. Never with any awareness of having said it every time before, just as he routinely commented that the song most people called "Teenage Wasteland" was really titled "Baba O'Reilly," as if he hadn't told me at age twelve.
But not this time. It worried me. It worried me because I knew that we were both very capable of continuing this silence all the way to Oregon. The silence inside my father was the same one I heard inside myself. And I can only guess that it was the one Natalie heard, and that my grandfather heard. He'd passed away when I was seven, when my father was twenty- seven, the same age I was that winter.
Then he did speak, though not to me.