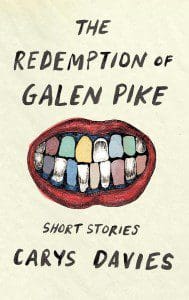 In Australian author Carys Davies' latest story collection, The Redemption of Galen Pike (176 pages; Biblioasis), Davies's deadpan voice and morbid sense of humor lend a surreal twist to otherwise ordinary interactions and relationships. Each of these stories in the collection, which won the 2015 Frank O'Connor International Short Story Award, features unlikely encounters between people with seemingly little in common, encounters which ultimately lead to unexpected self-discovery or empathy.
The title story perhaps illustrates this best. As it opens, a woman who regularly visits inmates to offer solace is assigned a prisoner whose violent crime she finds particularly despicable. Her job is made even more challenging by his utter indifference to her role. Even though their relationship doesn't appear to warm much, we later learn how much her visits mean to this prisoner, and the woman discovers compassion for a man she initially thought irredeemable. In "Jubilee," a festival worker senses the boredom of the widowed queen, and tries to entertain her with a story about his wife's Sapphic love affair. This confidence turns out to be exactly what the queen needed ("'Nobody tells me anything," she admits). As in many of Davies' stories, "Jubilee" shows how ostensibly inconsequential gestures or incidents can make a monumental impact on a person's life.
Always get the last word.
Updates and special offers straight to your inbox.
Keep up with the latest from ZYZZYVA by subscribing to our newsletter.
By subscribing, you agree to our Terms of Use and acknowledge that your information will be used as described in our Privacy Notice.
In "Bonnet," a writer who always wears a grey bonnet whimsically decides to upgrade her drab headwear with a touch of pink trimming. This flourish, which would seem quite trivial, shocks her publisher to the core—"the worst imaginable thing, when he looks up, for him to see it; for him to see this small plain woman, his friend, with this unexpected bonnet on her head"—and in turn fills the writer with a deep shame. One infers that their relationship is more than simply professional, and the whole scene is tinged with a sense of embarrassment that borders on terror. A small act also takes on vast importance in the story "First Journeyman," in which the town's vegetable provider experiences an overwhelming sadness when his ailing Master recovers and no longer has need of his carefully selected peas.
Carys Davies displays a penchant for the ridiculous, detailed in an unwaveringly dry and matter-of-fact tone capable of rendering events as shocking. One of her strengths as a writer is her ability to recount situations that are wildly unlikely yet ring true to human nature—the ways in which we try to entertain people in their grief, our tendency to develop affection for those who are particularly helpful, or the extreme lengths we go to maintain relationships even when they appear doomed. These stories embrace humanity's darkness and its compassion, making for a haunting and fascinating collection. Though readers may find many of the stories in The Redemption of Glane Pike to possess a morbid streak, they're sure to recognize truth in Davies' exploration of the potential for even the most basic human actions to lead to something grand.