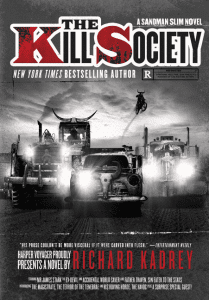 "So far, being dead is about as much fun as a barbed-wire G-string." Thus opens Richard Kadrey's The Kill Society (Harper Voyager; 416 pages), the ninth installment in his bestselling Sandman Slim series revolving around the half-human, half-angel anti-hero James Stark, a.k.a. Sandman Slim, one of the few souls to have escaped from Hell. He's a scrappy boozehound who's skilled in black magic and always fights dirty. He's feared by demons, and considered an abomination by angels, but he may be the only one who can save creation from itself.
Throughout the series, he has faced off against vampires and zombies, biker gangs and white supremacists, murderous cults and mutant angels. He's clashed with shadowy government agencies, fought all manner of monsters in Hell's gladiatorial arenas, and even served a stint as Lucifer himself (a job which changes hands over eternity). This time around, Kadrey exchanges the dark corners of Los Angeles for uncharted territory. Sandman Slim is dead. Really dead. And he's trapped in the Tenebrae—an endless desert of spiritual limbo scarcely populated by souls hiding from the torments of Hell. Here he links up with a group of motorized marauders led by a self-styled autocrat known as "the Magistrate." This motley crew of dead souls and hell–beasts sustains their travel across the unforgiving hardpan of the Tenebrae with murderous destruction. Survivors of their wrath are given an ultimatum: join us or die again. (Souls unlucky enough to die twice end up in Tartarus—a Hell below Hell where the doubly dead are kindling for the furnace that fuels creation.)
Always get the last word.
Updates and special offers straight to your inbox.
Keep up with the latest from ZYZZYVA by subscribing to our newsletter.
By subscribing, you agree to our Terms of Use and acknowledge that your information will be used as described in our Privacy Notice.
Some critics have compared the Magistrate and his gang to the villains in the Mad Max franchise, but Kadrey takes a fresh approach to his vision of an apocalyptic wasteland. Instead of a gasoline-seeking bodybuilder named the Humungus, the Magistrate is a religious zealot on a bloody crusade for a mystical weapon. His exact objective is mysterious, but it's clear to our protagonist that the Magistrate plays a critical part in the ongoing war between Heaven and Hell.
Dead, homeless, and with his magic skills stunted, Sandman Slim chooses to bide his time and ride along. Readers are treated to a softer, more conscientious version of him, as he tries reconciling his death with the life he's left behind in Hollywood. He later resignedly tells an angel, "I'm not built for Heaven. I'm built for killing things and Hell is where killers go." But the brash, violent solutions that have long been Sandman Slim's signature are still present. Despite lacking his usual weaponry, he proves himself to his new companions as an effective, if raw tactician against their enemies, and they reluctantly accept him.
It's bracing to experience Sandman Slim's world-weary cynicism ("The winners are the schemers and the ruthless who take what they want, not the suckers standing around hoping for an even break"). What's not to love about a fearlessly sarcastic, pop culture junkie who's mouthed off to angels and even God himself and gotten away with it? It's Sandman Slim's unique voice, supported by rich world-building shining with interesting details, which make this series of books such a pleasure ever since the publication of the titular novel in 2009. Told in prose that cuts with the subtlety of a flint knife, and fulfills the pulpy promise of the book's stylized cover art (a pastiche grindhouse film poster which includes a content rating), The Kill Society is an over-the-top opera of mystical violence sung by a chorus of the saved and the damned. Loyal fans will not be disappointed, and new readers will find an easy entry to the series' lore.