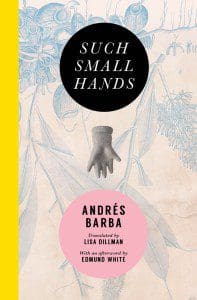 In Such Small Hands (108 pages, Transit Books), the new novel by acclaimed Spanish author Andrés Barba (translated by Lisa Dillman), childhood abandonment and trauma are examined through the abnormal, ritualistic behaviors of Marina, a seven-year-old girl turned orphan. Following the unexpected deaths of her parents, Marina loses any control she once had over language and emotion. Placed in an entirely unfamiliar world, filled with cartoonish, seemingly identical little girls, Marina grapples with her black-sheep identity as she confronts complicated, and at times, horrific decisions that eventually lead to drastic consequences.
Loosely based on a brutal event that took place in 1960s Brazil, Barba's twelfth book creates a narrative similar to other bildungsroman such as Oliver Twist and even Pan's Labyrinth, maintaining a lyrically rich and devastating portrayal of adolescent struggle. Caught between the bookends of trauma, Marina finds herself in limbo as she fails to both perform and to cope with her emotions effectively.
Always get the last word.
Updates and special offers straight to your inbox.
Keep up with the latest from ZYZZYVA by subscribing to our newsletter.
By subscribing, you agree to our Terms of Use and acknowledge that your information will be used as described in our Privacy Notice.
Switching between a collective first person, gang-like perspective of the orphans and a third-person perspective for Marina, a deep sense of longing and tension is formed between the two voices. Despite hopes of finding friendship with her comrades, Marina and her peculiar behavior create a barrier of jealousy and anger that poisons the entire orphanage and ultimately leads to violence.
Meditating on desire and loneliness in an otherwise cold and de-sexualized world, Barba compares Marina to an imprisoned zoo animal. "Inexplicably, we all edged closer, without meaning to. An inevitable attraction made us crave contact with her, seek out her voice, yearn for her to look at us. We no longer cared about the animals, or felt scared of the wolf, or sorry for the elephant, or admired the glimmering grace of the dolphins; we wanted Marina's contact, and we didn't know how to cast ourselves into that desert." Lingering every so often on ideas of physical touch and the young prepubescent body, the novel amplifies the importance of human contact in both a sweet and startling way.
Such Small Hands evokes a sensation similar to the horror of witnessing a child being dragged beneath a riptide. You want to help, scream, bury your face in your hands, but you also can't fail to notice the poignant valor of an innocent life gasping for air, struggling against forces seemingly greater than us all.