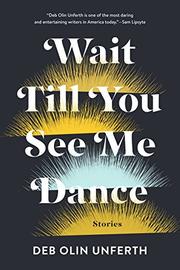 Wait Till You See Me Dance (Graywolf Press, 186 pages) marks Deb Olin Unferth's second collection of stories, following Minor Robberies (2007). The author of the novel Vacation and the memoir Revolution: The Year I Fell in Love and Went to Join the Sandinistas, Unferth displays a smart and snappy application of the short-short form in this volume of 39 stories—29 of which are fewer than three pages long (and four of which appeared in ZYZZYVA No. 108).
Wait Till You See Me Dance is filled with concise, meaningful sentiments that both entertain and engage the reader in commentary surrounding what it means to survive in today's world. Touching on topics as varied as gun violence, the unpredictability of success, the complexity of family dynamics, as well as the not-so-complex ideas of privilege, Unferth gravitates toward an array of nuanced subjects.
Always get the last word.
Updates and special offers straight to your inbox.
Keep up with the latest from ZYZZYVA by subscribing to our newsletter.
By subscribing, you agree to our Terms of Use and acknowledge that your information will be used as described in our Privacy Notice.
Divided into four sections, Wait Till You See Me Dance begins with an immediate blast of wit and charm. In the hilariously frantic "Pets," the issue of what to do with a pair of undesirable, orphaned turtles comes full circle as dysfunctional mother and son bicker and bond over the task at hand: "Have you been drinking? she says, following him down the hall. Just tell me that. A tall glass of shut-the-fuck-up, he says and goes into his room." Unferth situates the reader in the epicenter of an outrageous misadventure disguised as surrealism, due to the exaggerated and neurotic tendencies of an alcoholic mother mismanaging the common responsibilities of a broken household.
In "Voltaire Night," reality is heightened as a professor's lackluster life is re-ignited upon the installation of a storytelling ritual in which aspiring writers gather, sharing the most tragic events that have shaped their lives. "It became an institution, part of class," Unferth writes. "Leading up to it, the students conferred. Where should it be held? Should food be involved? And the parameters—the worst thing in the past five years? since Christmas? as a kid? They'd settle in and tell their stories as if we were around a campfire, as if these were the stories of their lives: their disappointments and frustrations, what they'd striven for and hadn't gotten, the promises made to them that had been broken, the people who were gone or who were still there but changed somehow, not what they'd once been, or perhaps it was the students themselves who had changed." Accentuating the commonly pessimistic attitudes of writers and what it means to measure one's success by one's nightmares, Unferth pulls the reader into a fable-like tale centered around the disturbing lengths some will go to support family.
And in "Mr. Simmons Takes a Prisoner," a failing father and husband misdirects his love and attention toward a young inmate. Reminiscent of Kevin Spacey's role in American Beauty, Mr. Simmons flails desperately, attempting to ameliorate his poor performance at home by forcefully bettering the circumstances of an unrequited, oblivious love interest. Stockpiling reading lists, cigarettes, stamps and other goods for his appointed prisoner, Mr. Simmons determinedly pours what's left of his soul into the future of Sally Baum, a woman who fails to see anything beyond the tip of her nose, reminding readers of the devastating effects of narcissism and heartbreak.
What makes this collection most entertaining, besides the obvious mastery of humor, is Unferth's knack for meshing unique and often relatable experiences with a highly observant, endearing narrator. While the characters within her stories aren't always the most dazzling of personalities, it's clear each player, whether minute or major, has a well-thought backstory, as well as set of ideals and heartfelt intentions for the way in which he or she navigates life.
Bumbling by, doing the best they can, Unferth's characters are filled with strength and heart. ("It may seem like I was being heroic here, trying to save this kid," one of them says at one point, "but the truth is I was just grateful to be feeling something.") While some may be quick to judge the unknown, or even act unkindly toward others, it is their ability to be shown up, proven wrong, and accept defeat in their attempts at condensing the people and instances around them, that wins out in the end.