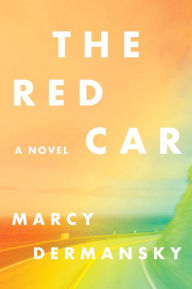 Marcy Dermansky's newest novel, The Red Car (206 pages, Liveright/Norton), moves much like the car it features: fast and unpredictable. It covers three stages and sixteen years of narrator Leah Kaplan's life, beginning with her as a college freshman, then leading to her bumbling entry into adulthood, and finishing with her early thirties, when she's a writer living in Queens with a possessive husband whom she does not love. Through it all Leah is a mess of contradictions; sexually open though terrified of affection, in earnest pursuit of her dreams but displaying a tendency for self-sabotage, "floating in unexplainable melancholy" yet always able to find humor in the bleakest situation. Leah is a puzzle that can't be pieced together.
The red car of the title arrives when Leah, now an aspiring writer just out of college, works an administrative assistant job in San Francisco. She despises the mundaneness of the office, and her boss, Judy, only encourages her loathing, taking her out for long, boozy lunches and allowing her to write stories during work. She listens to Leah about her roommate woes and unromantic hookups with a boyfriend who isn't really her boyfriend. Judy tells Leah she will do incredible things, and advises her not to marry because it would only confine her; she even threatens to fire Leah if she doesn't apply to grad schools. Perhaps it is this ambition that Judy instills in her that causes Leah to resent her boss's fancy new car as soon as she sees it. The car immediately becomes a symbol of the common—"Of fifteen more years at the office. A life sentence."—but Leah also detects something more. "I feel like something sinister has happened in this car … Or could happen. I don't know. Something bad," she tells Judy. Judy insists the car is perfection, a "dream come true."
Always get the last word.
Updates and special offers straight to your inbox.
Keep up with the latest from ZYZZYVA by subscribing to our newsletter.
By subscribing, you agree to our Terms of Use and acknowledge that your information will be used as described in our Privacy Notice.
Dermansky flash forwards ten years. Leah is thirty-three, living with her husband, Hans. She has just finished writing the last page of her first novel, but hasn't told him. "Hans would say that we shared a brain and what one of us didn't know about ourselves, the other knew. I never thought of this as a good thing. I wanted full possession of my brain." She hasn't communicated with Judy in three years, but occasionally thinks about sending her an email.
Leah has become a phantom in her own life. She has a problem with looking in the mirror, she is often mortified by her dark thoughts and actions, and sometimes she drifts and allows circumstance and people to treat her however they please. This theme of disembodiment is elevated when Leah gets a call that Judy has died in a car crash. In that same call she also learns Judy has left her the red car in her will. Leah insists she won't take the car, but gets on a flight to San Francisco anyway that same night for Judy's funeral. On the plane, Leah starts to hear Judy's voice. "I could hear the timbre of her voice, the inflection, but, of course, no one else could hear her." It is only when Judy's ghost appears to haunt her that Leah begins to realizes how much they had loved each other.
Once Judy arrives in San Francisco, The Red Car reads like an ode to the Bay Area. Some of the best scenes are tangential; Leah revisiting old haunts and experiencing strange reunions. It's as if she is retracing her steps, reliving the Judy-phase of her life. She almost cries into her burrito when she goes to the wrong taqueria in the Mission. "It's just a burrito," Judy's voice scolds her. Things turn surreal when she visits her old apartment in the Castro. Her old roommates still live there; Alice, the anorexic, and Phoebe, the hermit. But she doesn't see them because she is too busy having sex with Lea, the new resident of her old room. It is her first sexual encounter with a woman, and Judy chides, "You see, you are a lesbian." She visits the sea lions and wishes they would give her life advice. She visits old friends in Palo Alto, who are tripping on mushrooms. She reunites with a techie, who back in college she offered to have sex with for $100. Dermansky mentions Haruki Murakami twice in the novel, and much like in his work, she reaches for similar eerie and dreamlike qualities. At times this can come off forced, but at other moments she achieves a perfectly unsettling effect. In one scene, for example, Leah is watching a family of ducklings swimming in the Pacific, "and then, from out of nowhere, a hawk swooped down from the sky, taking one of the ridiculously cute ducklings into its mouth and flying away… The three remaining yellow ducklings did not seem to even notice."
Judy's voice ultimately persuades Leah to take the car, even though Leah continually insists that "death was inside" it. When Leah goes to collect the red car from the body shop, she encounters a deadhead mechanic who wants to get high with her. "You look as if you need something," he says. Under the seat of the car, Leah finds an unsettling note from Judy, and things only get stranger from there as the car exercises a power of its own over her. By the time Leah braves the Pacific Highway on a road trip to Big Sur—encountering more otherworldly people and sights—Marcy Dermansky's The Red Car works on us the same way Judy's car does on Leah. We are possessed to keep going, barreling toward the unknown.