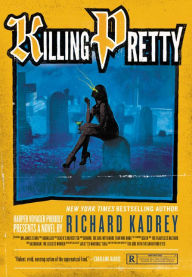 James Stark is a sarcastic, hard-charging brawler who can heal from any wound. Half human and half angel, he still feels pain, and his battered body carries a multitude of scars from shootings, stabbings, and torture. Stark, who goes by Sandman Slim, is so tough he smokes Maledictions, cigarettes you can only get in Hell. He lives off spicy food, donuts, and Hell's best wine, Aqua Regia. His attitude and appetites are the product of eleven years in gladiatorial arenas in Hell's capital, Pandemonium (a much hotter version of Los Angeles). In the first book of Richard Kadrey's bestselling supernatural noir series, Stark escapes Hell, seeking vengeance with a flaming sword and his weapon of choice, the na'at—a malleable, sword-like whip. He possesses Hellion magic, the ability to warp distance via shadow, and a black blade that cuts anything, opens any lock, and starts any car.
Stark's penchant for violent solutions existed long before his time in Hell. He is a descendant of Wild Bill Hickok, and in previous adventures, Stark has faced off against numerous threats: vampires, mutant angels, necromancers, a zombie plague, and gods as old as God himself. He's saved the world more than once, served as a bodyguard for Lucifer, and even reigned on the throne of Hell for a time.
Always get the last word.
Updates and special offers straight to your inbox.
Keep up with the latest from ZYZZYVA by subscribing to our newsletter.
By subscribing, you agree to our Terms of Use and acknowledge that your information will be used as described in our Privacy Notice.
In Killing Pretty (Harper Voyager, 387 pages), the seventh installment in Kadrey's Sandman Slim series, Stark is near broke and moonlighting as a private detective. Somebody has killed Death. Well, sort of. Death is trapped in a human body missing a heart, and his soul-ferrying duties have been hijacked. Only the dying can't quite die, instead falling comatose, which threatens the essential function of the universe. Souls are trapped in the "Tenebrae," a limbo realm between Heaven and Hell. Tracing Death's new body leads Stark through the paranormal underworld of Los Angeles. Against a backdrop of occult history, he clashes with neo-Nazis, soul dealers, and secret magic societies with hidden agendas.
Stark's unique voice taps the pulse of this strange world. A stabbing victim "howls and thrashes around like a wolf on acid." Nightclub bass thumps "like a Munchkin beating on my solar plexus with a rolling pin." In Stark, Kadrey has created a hard-boiled, anti-hero to rival Sam Spade, Philip Marlowe, and Mike Hammer. Stark operates by an internal code outside natural or supernatural law. Violence is omnipresent but strategic. And his high tolerance for pain comes with a low tolerance for bullshit. "The universe hates happy people, that I'm sure of," Stark states. "You need to cultivate a taste for colorful misery."
A lively cast of supporting characters from past books in the series return in Killing Pretty. Kasabian, a human head on the body of a hellhound, is a low-level magician turned hacker. Stark's witty girlfriend, Candy, can transform into a clawed, flesh-sucking monster at will. And of course Death incarnate, who pops pain pills for depression. The four of them form a surrogate family and live at a sleazy, independent movie store called Max Overdrive Video. A self-confessed movie nerd, Kadrey includes amusing references to grindhouse pictures (Stark's main hangout is a punk tiki bar called Bamboo House of Dolls).
Even with themes such as loss, revenge, and transformation, the tone in Killing Pretty is light. And like its predecessors, Kadrey's new novel is a compulsive read. The plot territory is fresh, and longtime readers will delight in another visit to Stark's ever-chaotic life.