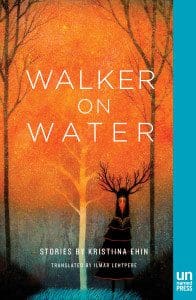 Kristiina Ehin's Walker on Water (88 pages; Unnamed Press), translated by Ilmar Lehtpere, marries magical realism with oral tradition to create modern folklore about the complexity of romantic relationships. Ehin is an award-winning Estonian poet, having authored six volumes of poetry as well as three story collections and a book retelling Estonian folk tales—all of which noticeably influence Walker on Water.
Primarily, these stories remain in the realm of the magical: In the title story, the protagonist practices walking atop the sea while her husband is at work. He is the director of the Climate Change Monitoring Department at the Academy of Sciences. He also, she discovers, has a hatch on the back of his head from which he removes his brain each night. The protagonist is jealous of her husband's admirers at work, and decides only she is deserving of his brain. So, in a fit of jealousy, she decides to drown his brains. "I wanted an intelligent and educated man, but what I got was a brainless oaf." This line stands in stark contrast with the fantastical image of the man casually removing his brains at night, as so many husbands metaphorically do, nestling into a couch with a beer, while their intelligent minds, their desirable qualities, are left back at work.
Always get the last word.
Updates and special offers straight to your inbox.
Keep up with the latest from ZYZZYVA by subscribing to our newsletter.
By subscribing, you agree to our Terms of Use and acknowledge that your information will be used as described in our Privacy Notice.
Ehin explores contemporary problems through surrealistic means. A woman bites off the arms of her many husbands—subsequently they sullenly forgive her; another collects her former husbands' "apricots" which she keeps in the attic (that tale uses language that is constantly a "razor's breadth" away from using "castration"). "Lena of the Drifting Isle" is an immortal skeleton that is paid not in currency, but in time, and who tells the protagonist a story of lost love. The story is then carried on by the protagonist's talking bird, which is teaching her its complex and invented grammar. Sometimes Walker on Water suffers from oversimplification, such as in "Evening Rendezvous," where the characters Happiness Formula and Life Story debate in order to come to a conclusion about each other. This same method is handled much more deftly in "Stone Chunk and Beautiful Question," which explores the issue of projection, false judgment, and expectation in relationships.
Kristiina Ehin wrote her fourth work, Kaitseala (Huma, 2005), which won Estonia's most prestigious poetry award, on an uninhabited island in the Gulf of Finland during her time as a warden at a nature reserve. The natural world shines through again, years later, in Walker on Water, as Ehin conjures frozen rivers upon which grand-aunts and father-in-laws skate—barely and indiscernibly—through what the reader perceives as a snowy atmosphere. In the title story, a freezing sea threatens to swallow the protagonist, who walks out upon it from a coastal farm. While strikingly boreal, Walker on Water is also punctuated by immortal beings who live in a seemingly tropical "coral country" featuring an ancient, dilapidated castle at its center; it is a strange and effective work to behold.