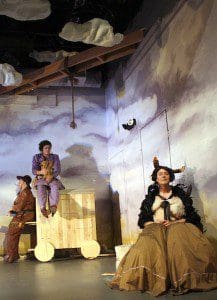 For the world premiere of Basil Kreimendahl's hilarious and tenderhearted play Sidewinders (directed by M. Graham Smith), the Cutting Ball Theater in San Francisco has flipped its performance space, arranging the stands of chairs so the stage is deeper than it is wide. Papier mache clouds hang from the ceiling, casting shadows on the clouds painted on the walls, creating an illusion of depth (lighting design by Heather Basarab). The stage seems to open up in front of us on three sides. The set, designed by Michael Locher, is dotted with sandy colored, flat-topped stumps, like desert mesas in miniature.
It seems right, in this setting, to encounter two fools: Dakota, a swaggering gunslinger (played by Sara Moore), and Bailey, an elegant soldier (played by DavEnd). Their train has run out of track, and they are stranded, as Dakota says, "on the Edge of Everything." Profoundly disoriented, they do not know where they are, where they were before, nor who they were before. Their dilemma is both existential and venereal. Bailey does not know what Bailey is, what parts Bailey has, or whom Bailey should fool around with, and if Dakota knows, the gunslinger isn't sharing. Bailey's parts are so mysterious that they can only be named by singing nonsense phrases. Whether it is the vastness around them that spurs Bailey's self-examination, or whether Bailey has always been questing to make sense of gender and sexuality, we can't know. But the mystery of identity seems to be drawing Bailey further into the unknown borderlands. "We could go…that way," says the soldier, wide-eyed, with an emphatic hair-toss in the direction of the frontier.
Always get the last word.
Updates and special offers straight to your inbox.
Keep up with the latest from ZYZZYVA by subscribing to our newsletter.
By subscribing, you agree to our Terms of Use and acknowledge that your information will be used as described in our Privacy Notice.
Bailey's desire to explore the unknown is so dramatic (and sympathetic) that it often overshadows Dakota's no less urgent struggle to be "rightside up again" and escape the zone of ambiguity and discomfort in which the fools find themselves. Dakota's way is to desperately throw up certainties where there are none (such as calling their broken-down train "Ole Reliable"). Moore gives a tightly focused, committed performance as Dakota. She brings to the part a twitchy bravado—hands resting on the buckle of the gun belt—disguising volatile emotion and deep vulnerability. In Dakota's readiness to whip out pistols we see someone who has been badly hurt, and who won't be caught off guard again. Indeed, the gender play in Sidewinders isn't always funny and safe. Sometimes it's dangerous and exploitative. Even to ask the question that drives the surface action of the play—the mystery of each character's gender—evokes violence, voyeurism, and colonialism. At one point, claiming "manifest destiny," Dakota demands with guns drawn to see Bailey's nethers. The characters violate, threaten, imprison, maroon, and shoot one another.
The opening exchanges of Sidewinders consist of rapid-fire, Beckettsian repartee that seamlessly integrates the idioms and tropes of the "wild west." Though Bailey and Dakota banter with wit and fluency, the staging of these sequences seems a bit stale at times. The two fools perform much of their early dialogue standing opposite one another, turned slightly out toward the audience. In these moments, especially when the lighting is bright, the stage seems empty indeed and it's like we're in a high school auditorium. Moore's focus helps to pin us to the interaction, but End at times appears distracted and doesn't always reciprocate Moore's intensity. End shines in the more physical sequences, when Bailey and Dakota are scuffling and clowning, limbering up the play, it seems, for when Sandy (Donald Currie) enters on a tin horse, looking like death itself.
While Dakota and Bailey present gender neutral or ambiguous, there's definitely something of the drag queen (with Yoda and the Cat in the Hat thrown in) about Sandy. She is monstrous and elegant, wise and slyly ironic. A ramshackle one-queen circus, she entertains the travelers with parables and announces her intention to "sit a while and fall apart." She asks Bailey to read from her "testament," wherein she reveals her only regret: that when she dies, people will reduce her to a collection of parts. Sandy is a constantly shifting whirlwind of gender. She turns one way and you catch sight of the nipples growing out of her left ribs; she raises her arms to expose thick wiry underarm hair. Sandy's testament implies a state of constant changefulness: "Sandy formerly known as Pat formerly known as Terry formerly known as Airen etcetera etcetera etcetera." In death the complexity, the coyness, and mystery Sandy has devoted herself to creating, stills and becomes fixed.
What Kreimendahl offers us is a vision of an evolution beyond gender. The playwright offers us silence to replace our nonsense. A silence so quiet we can hear the truth—that "there is bigger mysteries to solve." In this silence, Sandy gives a final monologue about an intimacy that knows no gender, and the words quietly resound.
Sidewinders runs till November 17 at the Cutting Ball Theater at EXIT on Taylor, 277 Taylor St. in San Francisco.