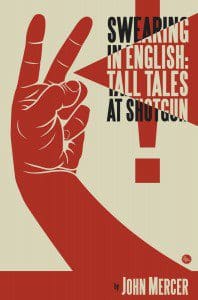 Oakland writer and actor John Mercer is a British expat from Leeds, in Yorkshire, who is a member of Berkeley's Shotgun Players. He recently appeared on their Ashby Stage in Tom Stoppard's Shipwreck and starred as Vladimir Nabokov in The Divine Game. His one-man show, Swearing in English: Tall Tales at Shotgun, directed by Christy Crowley, was set to premiere this month, but was postponed after he was diagnosed with viral encephalitis in May.
The rollicking, profound pieces in Swearing in English take readers on a wild ride, from Mercer quitting law after getting his degree (and taking acid) to sheep farming and herring fishing in Scotland to a cosmic encounter with Elvis in the Sierra to taking his son to spring training and trying to get an autograph from Barry Bonds. (Full disclosure: I copyedited the book for John, whom I met when our sons were on the same Oakland Little League team.)
The good news is that John's health is improving. The bad news is that since he is unable to work, in the theater or at his day job as a cabinetmaker, he isn't earning any money at the moment. As a way to support him during this difficult time, his publisher, 125 Records, is giving him 100 percent of the cover price ($15) of each copy purchased via its web site. (The book is also available for $18 at Pegasus Books in Berkeley and Oakland, or can be ordered from your local bookstore.)
ZYZZYVA: Can you explain the title Swearing in English?
John Mercer: Christy and I were invited to a wedding of two Shotgun members, and I was in the buffet line, and there were two or three women behind us, and there was a certain amount of flirting going on, and I stared swearing. Rather than being upset, they're thinking it's really cute and giggling and want to hear more. I turned to Christy and said, "Listen to this, it's swearing in English. I can say really crude stuff to them and they think it's fantastic. If an American did this he'd never get away with it."
Always get the last word.
Updates and special offers straight to your inbox.
Keep up with the latest from ZYZZYVA by subscribing to our newsletter.
By subscribing, you agree to our Terms of Use and acknowledge that your information will be used as described in our Privacy Notice.
Z: Your stories go beyond the core anecdotes. There are lots of digressions and personal reflections.
JM: If the story has me realizing something within it, and I start talking about it and it goes off on a tangent, that's actually happening to me while I'm writing the piece. It's entirely arising in the moment. Like Scottish storytelling, it wanders off somewhere, and you think, Where has he gone now? And then it's, Oh, he's come back again. Then, he's gone off again, but now he's tied up the two wanderings and he's got them going through the story line as well.
Z: What do you mean by "Scottish storytelling"?
JM: When I was a boy we would spend time with this Scottish family that was very literary and talkative. This was the wee Scotsman I write about in the book who would drink his whiskey with milk and tell crazy stories from when he was in a Scottish regiment in World War I. His daughter, Zoe, would give me books to read like Gerald Durrell's My Family and Other Animals, which was stories of Durrell's childhood on Corfu. She gave me that when I was 12 or 13. Maybe that was the great inspiration: I loved his stories of his family and crazy things that happened. That was the beginning of my really loving books.
Billy Connolly tells stories like that. Then when I lived in Scotland, I found this is what everybody does. You sit down and have a few drinks and then you go to someone's house after you've spent the night in the bar and you'll carry on drinking, and that's when the real stories come out, and the secrets. To be able to tell a story like that is one of the best things in the world. And they're unbelievably funny—the kind of stuff you can't make up.
I think that's the thing with my stories: They include the ridiculous and the outright unbelievable, but they're all true.
Z: How did you approach the story "The Day We Met Elvis"?
JM: I went up to the place where it happened—Packer Lake in the Sierra, where we'd gone in the summers as a family—and stayed in a little cabin. I was filled with remorse about whether it was as bad as I imagined it was. I wondered if my children would tell stories of how they went off on summer vacations and how dreadful they were. And that led into the anecdote of meeting Elvis [an Elvis impersonator singing in a run-down motel].
I asked myself why Elvis had appeared to us that day, and that's how I found the ending for the story: Elvis had appeared to bring a message from the great rockabilly beyond to tell me everything's OK, the past is the past and we're not tied to it.
Z: You have two "perfect moment" stories in the collection.
JM: I think all my stories are about the same thing. I had this one called "A Perfect Moment," which has the scene of me on the bridge at Bolton Abbey, and that was always in my memory a perfect moment—that was the epitome of what a day could be for three friends hanging out. And then I realized I had another "perfect moment" story about a little dog barking and a little boy, so I titled it "Another Perfect Moment." Then I realized that's all I write about. They're all perfect-moment stories. They're all ridiculous and true.
Regan McMahon is senior editor, books, at Common Sense Media and copy editor at Zyzzyva.