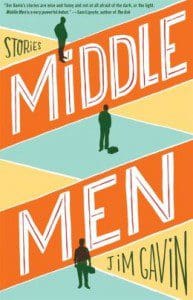 From time to time we may ask ourselves, what is a short story? To be sure, length is a defining characteristic, but it is not enough. Can we trace certain recurring threads throughout the now expansive history of the form: a constant set of concerns, a type of character, a type of plot? The form is, to its credit, too nimble for such decrees; what Alice Munro does with a short story is dramatically distinct from what George Saunders does, and both use the form with exactness and brilliance. But perhaps we can observe, in general, that there are particular things the short story can do especially well: for example, it may be exceptionally well-suited to capturing a type of character at a critical moment of transformation. It is felicitous, then, when the form's aptitudes meet squarely with an author's material and intent, as in Middle Men (Simon & Schuster, 224 pages) by Jim Gavin.
Frank O'Connor famously observed that, in lieu of a hero, the short story more often concerns itself with submerged population groups, a term he acknowledged as awkward, but one that served his purpose: "That submerged population changes its character from writer to writer, from generation to generation. It may be Gogol's officials, Turgenev's serfs, Maupassant's prostitutes, Chekhov's doctors and teachers, Sherwood Anderson's provincials, always dreaming of escape." Jim Gavin's first story collection is populated with his brand of such outsiders: dreamy young men, intelligent but lacking exceptional talent in their chosen fields or, sometimes, missing the cunning wherewithal to capitalize on the assets they do have. Gavin frames his stories as his characters reach a breaking point while seeking their way in an unforgiving contemporary landscape of corporate sales, Hollywood apprenticeships, tenuous relationships, and irksome and impermanent living arrangements.
In "Play the Man," a teenage boy's ambitions of greatness on the basketball court hit a wall; in "Elephant Doors" (a standout in the collection), a young man falters both in his day job on the set of a game show, and in his dreams of becoming a stand-up comedian; in "Illuminati," a young screenwriter faces an uncertain future even after one unexpected professional success. And in the moving, two-part title story, a father and son face the next phases of their lives after losing their wife and mother to cancer. (Full disclosure: "Recommendation," Gavin's first fiction in print, appeared in ZYZZYVA's Winter 2001 issue. That story, however, doesn't appear in this collection.)
The American male is in some trouble in Middle Men. But Gavin steadily navigates the potential pitfalls of a collection concerning, almost exclusively, young (presumably white) men hopelessly adrift in their own lives. The acute sense of entitlement plaguing many of Gavin's central characters is almost pitifully vague and naïve—there's little trace of arrogance in it. In Part One of the title story, Matt cares for his cancer-stricken mother with genuine love and dutifulness, but also with a sense of relief that, for once, he knows exactly what is expected of him—only to be cut adrift again after her death: "After she died, Matt, for his pain and loss, felt entitled to many rewards. He secretly anticipated, in no particular order, a moment of spiritual transcendence, the touch of a beautiful and understanding woman, and some kind of financial windfall. Instead, at thirty, he was broke and living at home." The expectation of a windfall or a "bonanza"—usually in the form of large-scale recognition of their talent and worthiness—is shared among these central characters, yet underlying this expectation runs a current of profound existential anxiety.
Though the deck isn't exactly stacked against their demographic, the men here struggle to build meaningful lives, to move ahead with purpose and conviction. Such characters might easily slip into intolerable self-involvedness, but Gavin refuses to reduce his precisely drawn characters to caricatures. His clear-eyed compassion is effective: their foibles are both utterly unique and immediately recognizable as belonging to that human blend of folly and pathos. A keen, dark sense of humor is a critical element to the collection's success, too. At times the often wonderfully funny dialogue makes a sudden turn for the poignant. There's a rhythm to such disclosures that is deeply satisfying, such as when Brian (currently working part-time for Meals-on-Wheels) explains his future plans to his love interest in "Bermuda":
Always get the last word.
Updates and special offers straight to your inbox.
Keep up with the latest from ZYZZYVA by subscribing to our newsletter.
By subscribing, you agree to our Terms of Use and acknowledge that your information will be used as described in our Privacy Notice.
"I don't know how much longer I'll do it," I said. "Eventually I want to go back to school and make more money. I plan to lead a boring and respectable life."
"Doing what?"
"I'm not sure. Right now I own a lot of records."
"That's not really a career."
"I wish I could play music," I said. "Knowing a lot about something you can't do—it's like being a eunuch."
But perhaps most significant of all is the increasingly difficult terrain confronting these young men. Literature has long been interested in the spacious no-man's land between youthful dreams and the exigencies of reality as an adult, a fraught terrain well populated with winsomely idealistic characters who cannot quite bring themselves to conform. But for the generation known as "Millennials," the path from adolescence to independence seems more hazardous and the future more murky than ever. For the characters of Middle Men, jobs are hard to come by and, when available, offer little hope for upward mobility. Work appears unlikely to blossom into the satisfactions of vocation—satisfactions they've been primed to expect. And while they often fall back on family, there's a profound sense that there is little help available to them, and certainly no safety net. As Gavin's characters grapple with the loss of a dream of greatness, a larger sadness takes shape on the page: even modest aspirations of middle class stability may be out of reach.
These men are not Flaubert's flaneurs (though one can imagine them thinking of such characters with a certain shrugging nostalgia). The stories are haunted instead by the specters of successful men: heroes of the battlefield, and paragons of athleticism. They undertake work with a willing spirit, but find themselves ill suited to the options evidently available to them; they dream of wild success without much faith in their own hopes. Several of Gavin's characters seem to marvel at those who thrive in the competitive environments of Hollywood or corporate sales, but their impression of such climbers is marked with disdain for their methods—as in "Bewildered Decisions in Times of Mercantile Terror," where Nora (the rare female character in this collection) loses her patience with the coded double-speak routinely employed in sales meetings:
"That's great. Thanks, Nora. My guys are in the trenches all day trying to sell—"
"Trenches? Is that a bar in the Marina?"
"No, I'm not talking about actual trenches."
"Like World War I?"
"No, of course not," said Mike, rolling his eyes. "I don't mean actual trenches."
"Like All Quiet on the Western Front?"
"Look, I would never compare myself to a soldier. I have too much respect for what those guys are going through with the wars and everything. I'm just saying that right now all the pressure's on us. On sales."
Gavin's characters are torn between an inborn work ethic and a desire to revel in the freedom of giving up and giving in. Their tortured struggles for success feel distinctly American, and distinctly of their age. His vision of contemporary California—both panoramic and exquisitely detailed—rings true, too. It's a landscape of sprawling freeways and Del Taco; a place where the promise of American dreams shines especially brightly—perhaps because it is a mirage. Yet amid the disillusionment, California offers its familiar comforts: the beauty of the landscape, the solace and freedom of anonymity in a town of celebrities, the culinary consolations of Del Taco.
Sad and funny but never twee, Middle Men captures its mishap-prone and chronically underemployed characters on the cusp of moving beyond their muddled dreams of grandeur. Gavin renders the moment they are forced to let go of a lifeline and are propelled beyond one stage of life into an as-yet-unknown other. And by investing their lives with layers of loss, comedy, and meaning, he has created both distinct individuals as well as a somber reflection of their time and place—a landscape of starkly diminished opportunity.