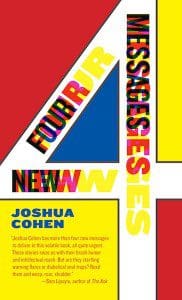 In his new collection of stories, Four New Messages (Graywolf, 208 pages), Joshua Cohen portrays lives that are predicated on and destroyed by the Internet's world of screens and static. Portaging an understanding of his generation's ethos (the author is 31), Cohen fleshes out young characters struggling with an increasingly electronic lifestyle.
Cohen's stories, which range from about 30 to 70 pages in length, take some time to get into, but settling into them is something to be relished. His sentences, spare of commas and loaded with improvised structure and vocabulary, have a frenetic yet hypnotic quality. Through layers of narrative and mimicry of various modes of modern communication, Cohen conveys the stress of a society in which one's reputation can rest in the hands of anyone with access to a computer. In "Emission," a drug dealer discovers an incriminating personal secret has popped up on a blog when a potential employer explains why he cannot offer him a position: "The internet…are you aware of your internet?"
Always get the last word.
Updates and special offers straight to your inbox.
Keep up with the latest from ZYZZYVA by subscribing to our newsletter.
By subscribing, you agree to our Terms of Use and acknowledge that your information will be used as described in our Privacy Notice.
In his literary awareness of narratives, genres, and styles, Cohen's range shines through, despite the collection's high-tech tone. In the intro to the book's final story, "Sent," Cohen gives us the folksy but ultimately tawdry history of an expertly carved wooden bedframe. It begins as a tree, which "grew to be an amalgam of trees…As a tree it was the widest but most stunted like him so he chose it and cut it because it was like cutting himself, which is what a child will do, he will cut you. Imagine you chopped open a tree and inside was a very small tree. That is what it's like to be human. To be both conscious and conscious of one day not being––and so we seed another." Thus begins a timeline that spans social, political, and literary epochs, and evidences Cohen's facility with the development of art throughout history. Sadly, but not altogether surprisingly, the bedframe ends up in a home in a dilapidated Russian town––the set for an amateur online porn video.
Cohen offers us a glimpse into the tormented and convoluted writer's process as well, suggesting at points in each of these stories that what he presents is a work in progress. In "McDonald's," a copywriter grapples with his realization that "Today entire sentences can be made by brands jammed like cars, entire paragraphs like crashed cars your writer's rubbernecked––his sore sloucher's neck––on his commute."
In "The College Borough," a deluded creative writing professor dreams up a project for his students, to build a replica of New York's Flatiron Building in the center of their Midwestern college campus. "You won't be handing in writing for the rest of the year," he tells his students. The professor seems content to end his career in silence and live inside a massive reproduction, a fake.
Cohen articulates the fear that the advent of the Internet age, despite its implications for the possibility of globe-spanning connection, has created a profoundly claustrophobic environment for those too heavily dependent on its reward systems. His characters do not expand their knowledge, but rather isolate themselves. Alone, they hunker down in a dark and clammy room, from which escape begins to seem increasingly unlikely.