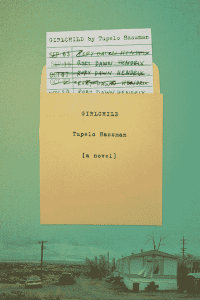 The first thing to be understood about Tupelo Hassman's debut novel, Girlchild, is that the young protagonist, Rory Dawn Hendrix, is alone. This is not only evidenced in her isolation: living in Reno's Calle de las Flores trailer park, her general lack of school friends, or the way her poverty is treated coolly by government officials. Rory Dawn's aloneness comes off in her fearless narration, the way she wanders off unaided into unknown places, to be followed by the adventurous reader.
Rory approaches everything familiar with caution. The Calle is her home, but it doesn't offer the comfort or the safety of one. She is fearful of knocks at the door. She loves her mother, but can't stand the way she points to the meager artifacts of their home and tells her these are the things to be given to her upon her death. She listens to conversations between her mother and grandmother, detached and wary. In the dark of their trailer, she watches Family Ties and M*A*S*H.
Always get the last word.
Updates and special offers straight to your inbox.
Keep up with the latest from ZYZZYVA by subscribing to our newsletter.
By subscribing, you agree to our Terms of Use and acknowledge that your information will be used as described in our Privacy Notice.
Aside from the occasional one-liner bit of advice from the women in her family, her sole role model is the Girl Scout Handbook, which she has checked out from the library more times than she can count. Being a Girl Scout is all about survival. The book dictates things such as "Finding Your Way When Lost" or "The Right Use of Your Body." But the Girl Scout Handbook was obviously written with a different sort of girl in mind. Hassman tweaks these chapters to reflect appropriately the weathered life of a Calle girl.
More interestingly, Rory Dawn isn't a typical Calle girl. She is a sincerely bright, young woman who iterates her capabilities throughout the novel—she can spell anything, she reads constantly, and gets good grades. Her school hints at her college potential, and the faculty rub their hands together, thinking of how much they could benefit from such a bright student. Yet, as in the book's openings, Rory calls herself the "feebleminded daughter of a feebleminded daughter, herself a product of feebleminded stock," and there's the fear that feeblemindedness clings to her, inherited as easily as she might inherit her mother's teeth.
Like the other folks on the Calle, layers of misfortune and poverty plague each generation of her family. One can't help but wonder if Rory, as smart as she is, is doomed to this cycle. Her mother seems to be thinking the same thing, holding her daughter at arm's length, as if afraid of tainting her. Her affection for Rory appears mostly late at night, at the door to her room when she whispers, "Goodnight, girlchild" when she thinks Rory is asleep.
Hassman, whose striking nonfiction piece "Hair of the Dog" appeared in ZYZZYVA's Fall 2010 issue, relates Rory's childhood with boldness. We know all too well the glossed-over versions of Rory's story, the ones in which the character comes from nothing, and where they came from only serves to emphasize where they are now: successful, living the American Dream. Hassman is not interested in telling that story. She explores Rory's early life – and her mother's and her grandmother's lives long before Rory's birth — on its own terms, without making any promises that Rory will wind up in a better place. She finds the sacred in the love, in the rituals —the bouquets made out of toilet paper — of the Calle. The novel puts to the fore people who might be otherwise relegated to the background.