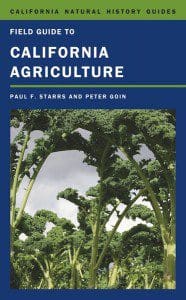 America's appetite for all things culinary seems boundless. The saturated media environment tempts with food blogs, hundreds of new cookbooks, and on-line restaurant reviews. Wait staff routinely reel off the provenance of every item on the menu, and some reality television offers meals as entertainment. Visiting with vendors at a local farmers' market provides a closer encounter with the "who," "what," and "where" surrounding California's food supply. For those wanting to dive deeper, though, the recent Field Guide to California Agriculture (475 pages; University of California Press) offers an illuminating and entertaining trek into what authors Paul F. Starrs and Peter Goin describe as "the most dramatic modern agricultural landscape in the world."
Starrs and Goin, both University of Nevada professors, have written a captivating gem of a work full of sparkling essays and have laced it throughout with Goin's evocative photography. Field Guide is based on a two-part key, dividing products between animal and plant. Crops are then further classified by height.  "Our goal," they write, "is to provide recognition, facts and information — to feed you a storyline, adding the occasional drum roll or bass beat of tension to the story of California agriculture — and, in the process, to encourage exploration and discovery."
Always get the last word.
Updates and special offers straight to your inbox.
Keep up with the latest from ZYZZYVA by subscribing to our newsletter.
By subscribing, you agree to our Terms of Use and acknowledge that your information will be used as described in our Privacy Notice.
The Field Guide also includes an eye-popping graphic of color blocks titled The Colors of California Agriculture. "So much of our agriculture–and our own market influence and taste–is a function of color choices," the authors write, explaining the inclusion of the graphic. "We only buy the 'red' apple or the 'orange-ist' orange without flaws; the perfect meat, the greenest cucumber … the colors of California Agriculture are all around us as we travel the backroads and byways of agricultural landscapes. From the portapotty blue the caterpillar yellow, the palette of colors are all about what we see each and every day."
Coupled with Goin's stand-alone images of crops and commodities is The Paradox and Poetics of Agriculture, a tantalizing gallery of photos. The series by Goin captures the contradictions in California agriculture. His photos go beyond mere rote identification, teasing out the nuances within the overlooked environments and the underappreciated individuals central to the narrative of California agriculture.
"While I often include the concept of the lyrical," Goin writes, "there is a story embedded in each image, from the North Bay to Desert Regions. This project is from a much larger archive – the Peter Goin and Paul F. Starrs California Agriculture Archive at the Bancroft Library at the University of California, Berkeley. Within the archive many more images of the people can be found. The people cannot be separated from the fruit. Speaking with farmworkers, owners, distributors, ranchers, agents and produce stand operators, among many others, revealed there is a lot of love in agriculture: conflict, sure, problems, obviously, but overall pride and promise offer hope for your culinary future."
Designed for portability, this stout little tome easily fits into a glove box, ready for retrieval when a passing agricultural landscape baffles. But being such an engaging companion, the Field Guide to California Agriculture will more than likely migrate to your bedside reading table.