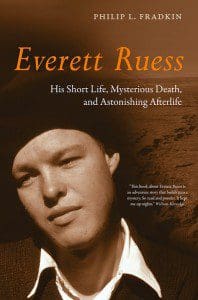 I first heard about Everett Ruess, a 20-year-old wander and fledging artist who disappeared in southern Utah 75 years ago, when I lived in Santa Fe, New Mexico, during the '80s. His story – a longstanding mystery — was one you eventually got to know if you spent anytime roaming around the backcountry of the high desert.
Many years later, on April 30, 2009, the New York Times published an article titled "A Mystery of the West Is Solved." The article explained that researchers at the University of Colorado, using DNA analysis, claimed to have identified human remains found in 2008 that were purported to be those of Everett Ruess. Major papers, NPR, Outside Magazine, blogs and websites also carried the story. It was even the cover story of the tenth anniversary edition of the now defunct National Geographic Explorer. When Philip L. Fradkin, the Northern California environmental writer and biographer heard the news, he was unconvinced. Fradkin was familiar with the story, first encountering it in the late 1970s while reading Wallace Stegner's Mormon County, which mentioned Ruess.
Always get the last word.
Updates and special offers straight to your inbox.
Keep up with the latest from ZYZZYVA by subscribing to our newsletter.
By subscribing, you agree to our Terms of Use and acknowledge that your information will be used as described in our Privacy Notice.
"Many partial bodies, skeletons and bones unearthed over the years have been attributed to Ruess and then determined to be someone else," Fradkin writes in Everett Ruess: His Short Life and Mysterious Death, and Astonishing Afterlife (University of California Press; 332 pages). "The stakes were huge. Finding Everett's bones, and especially his missing 1934 journal, would be akin in the Southwest to locating Amelia Earhart's airplane with her flight log intact."
Fradkin packs plenty of revelations about Ruess and his times into this concise and enthralling biography. His reasoned discussion dissecting the scientific kerfluffles involving the 2009 DNA analysis of the bones found in Utah the previous year is enlightening and important.
Today's helicopter parents will no doubt blanch at the story of Ruess, who beginning in 1930 at 16 wandered alone on foot, except for the company of companionable burros, for almost five years, making his way through California and the Southwest. His first forays were trial trips, close to his Los Angeles home, taking him to Morro Bay, Carmel and Big Sur. He eventually made his way to Yosemite National Park. From 1931 to 1934, Everett crisscrossed the region of the Colorado Plateau including Monument Valley, Grand Canyon and Zion National Parks.
Fradkin does an admirable job of plumbing primary resources for Reuss' family history, revealing the spiritual and psychological underpinnings of his life, which set the stage for the young man's artistic yearnings and wanderings into the wild. During his forays, he communicated with his family through letters requesting medicine, books and money. He kept journals of his poems, thoughts and art. While traveling he got to know park rangers, ranchers, Native Americans and artists. In Carmel, he met Edward Weston. During a hiatus from the backcountry in 1933, Ruess became friends with San Francisco artists Maynard Dixon and Dorothea Lange. He tried selling his prints to galleries in the city without much success, though he placed a few of his mounted prints on consignment in Paul Elder's bookstore and gallery on Post Street.
During the early spring of 1934, when Ruess was 20, his brother dropped him off in the small town of Kayenta in the Monument Valley. It would be the last time a family member would see him. Ruess headed toward Chinle, a route he'd traveled previously. He wrote in his journal, "Once more I am roaring drunk with the lust of life and adventure and unbearable beauty … And yet there is an undercurrent of restlessness and wild longing."
Fradkin's enthralling narrative recounts the unsuccessful search for Ruess, the family's heartache, and how over the years his strange story became embedded within the narrative of the American West. Throughout the book, Fradkin displays his considerable skills as a storyteller. While simultaneously telling Ruess' story, he weaves in the rich history of life in California and the West during the Depression. It all makes for a riveting ride through one of the Southwest's enduring mysteries.