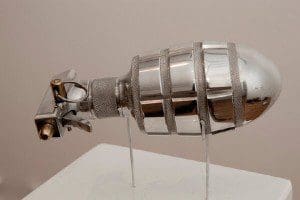 There seems to be nothing particularly "Irish" about the show this little bag of dreams … at the Catharine Clark Gallery, other than the nationality of its seven featured artists. The art does not overtly perform, assert or attempt to define "Irishness" in a way we might expect, especially when the work is presented under a banner like "Imagine Ireland," Culture Ireland's yearlong transatlantic outreach program (and the show's sponsor). As though to definitively dispel any residual expectations of a culture-on-exhibit show, Mediterranean food was served at Saturday's opening reception. Guinness was available, but so was Sierra Nevada.
In fact, this little bag of dreams … is, above all, a celebration of the contemporary art coming out of – or, regrettably, often not coming out of – Ireland. The quality of Irish art is impressive, this exhibition shows, and yet it receives disproportionately little attention compared to its English and American counterparts. In this sense, Ireland is something of an artistic reservoir. Co-curators Nathan Larramendy of San Francisco and Dublin's Josephine Kelliher help expose that.
The themes explored are universal; the gallery's wording even makes them seem vague: "In their various ways the artists in this exhibition take facts and realities, disassemble them, and run permutations of 'what if' scenarios. Their 'bags of dreams' are visions of an infinite variety of truths and futures …; [the artists] pause to interrogate, refocus, or review how things are, or how they might be different." It's hard to think of a worthwhile exhibition that does not attempt to meet these requirements: that it be imaginative and interrogative, not merely aim to hold a plainly representational mirror to reality.
Always get the last word.
Updates and special offers straight to your inbox.
Keep up with the latest from ZYZZYVA by subscribing to our newsletter.
By subscribing, you agree to our Terms of Use and acknowledge that your information will be used as described in our Privacy Notice.
Upon entering, one encounters some of the show's more eye-catching works. To the left, a set of two antler-like sculptures, crossed, support three long tubes of "found" neon – an index of working-class entertainment and consumption that contemporary art has long loved to hoist into the high-cultural realm of the museum or gallery. Unfortunately, or perhaps fantastically, its seductive brilliance proved too much to bear. In a presumably unplanned performative exit, the neon exploded halfway through the opening. (The gallery is working on replacing it.)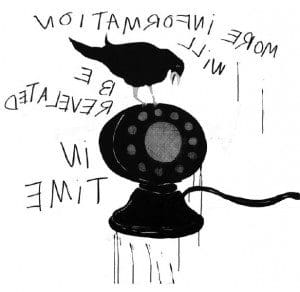 Nearby hangs Garrett Phelan's provocatively absurd "what if" scenario – one in which Mynah birds have, apparently, gained control of the means of mass communication (here, represented by a microphones) and are using them to deliver Orwellian, propagandistic messages ranging from chilling to hilarious. The messages are written backward – something of a communication barrier and good for dramatic effect, as they can only reveal themselves slowly, awkwardly and linearly. There are a few dozen posters parading across a wall and around a corner. "Do not stand in the way of it," one bird warns. "Come clean before it," suggests another. "Of raging poverty, death and sickness. Nothing will protect you from your senseless bumblings, your absurd doings, your killings and your lying." Hanging large above them all: "more information will be revelated in time."
Serial repetition of the sort Phelan employs emerges as a common approach among the works, though the results are not always as successful. Along the hallway leading to Catharine Clark Gallery's back room hang a series of photographs of artist Lorraine Burrell, or at least her legs, protruding from cardboard cutouts of different geometric shapes. In dénouement, a video captures her inside of what looks like a giant power plug, blindly struggling to fit her prongs into corresponding holes in a wall. One of the show's few disappointments, Burrell's pieces offer little beyond their surface humor, providing meager incentive to search for anything more.
Tom Molloy supplies the only works that addresses national identities head on. Fifty BB gun targets bearing red stars adorn a wall. With each star riddled by BBs to differing degrees and in different patterns, the targets evoke a tattered variant of our national flag.
Glimmering alongside are the show's most physically impressive pieces – a collection of massive metallic landmines and a set of sleek, silver grenades that resemble kitchen spray bottles. Weapons of Mass Consumption represents the escalation of "germ warfare" to a truly militant level, something artist Aideen Barry began to obsess over after moving to one of Ireland's planned suburban communities. She further explores the milieu of "dystopian domestic" in a flawlessly executed stop-motion video portraying a manic housewife tidying an already immaculate house and grocery shopping at a speed that keeps her suspended some inches above the ground. In fact, a considerable amount of jumping went into making the video.
The best art at this little bag of dreams … takes on subject matter that is no less American than it is Irish – anxieties about mass media and politics, the emergence of germaphobic "dystopian domestics" in suburban worlds – and infuses it with what could be called a distinctly Irish humor: clever and dry, dutifully taking the edge off the bleakest of scenarios. Perhaps herein lies the meaning behind Burrell's power plug woes.
this little bag of dreams … runs through August 27 at the Catherine Clark Gallery in San Francisco. Catharine Clark Gallery is also hosting a reading by three contemporary Irish authors, Kevin Barry, Phillip O Ceallaigh and Julian Gough at 1 p.m. on Aug. 27.