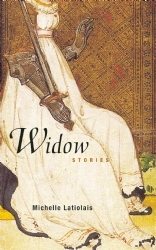 A collection of 17 short pieces, Widow (Bellevue Literary Press; 160 pages) is, as the title suggests and the opening story firmly establishes, concerned with a particular loss — that of the beloved partner. Though several of the book's stories were written after the death of California author Michelle Latiolais's husband, and the impact of that loss is felt on every page, Widow is not a memoir, yet neither is it entirely fictional. Drawing on a variety of genres (meditations, stories, and poetic vignettes) and points of view, Widow offers a kaleidoscopic view of the world from deep within the mourning mind. (One of the stories in the book, the haunting "Breathe," first appeared in ZYZZYVA.)
Latiolais's writing here is both earthy and intellectual. Fascination with language is threaded throughout; many pieces involve a discussion of the etymology of words and the discrepancies and oddities of language. These are not superficial concerns; they are part of the author's method (what she calls "involution") for navigating deeper and ever inward into the qualities that characterize mourning, and they serve as an apt expression of the strangeness besetting even the most familiar of things after a death. Latiolais also explores the physicality of the partner separated from her mate's body; the physiological and psychological effects of grief.
Always get the last word.
Updates and special offers straight to your inbox.
Keep up with the latest from ZYZZYVA by subscribing to our newsletter.
By subscribing, you agree to our Terms of Use and acknowledge that your information will be used as described in our Privacy Notice.
Just as the wry voice of the title story marvels at her outbursts of hilarity and surmises "the body could not withstand grief every waking moment, … the body would insist on a cessation for a time of the morbidity of grieving" – so, too, Widow offers chapters of respite, varying the tempo between its pieces. Each of these reprieves focuses on a different subject, everything from the tenderness between generations at a wedding party to a moment of dissonance between a couple visiting a strip club. Affectionate and comical, "Gut," for example, relates one woman's attempt to please the husband she adores by accompanying him on a research trip to Africa and serving as a test case for his latest research project — a venture which requires her to eat a diet of raw meat and leaves for eight hours a day. The effect on the reader is as the sun breaking momentarily through on a gray day: Though quickly obscured again, these pieces offer brief rest from the agonizing immediacy of the pieces dwelling overtly on loss, and, crucially, lend dimension to those darker stories, deepening their impact.
Those darker pieces focus intently on the overwhelming difficulty of the everyday in the post-personal-apocalypse world: calling the doctor; dinner and conversation with friends; using a particular coffee cup. The mundane comforts of routine are rendered foreign, treacherous, fraught with paralyzing difficulty; the very people (friends, doctors) and creature comforts (home, a good meal) meant to nurture and care for us confront the bereaved without sympathy or understanding, their sudden strangeness an added blow to an already reeling psyche.
The challenge Latiolais faces in Widow is to express adequately the immobility and grief her characters experience without letting the narrative itself become paralyzed. She accomplishes this in part by leaving her characters much where she finds them; she doesn't rush them, or us, through the stages of grief, hastening toward healing. We share a brief moment of intimacy with them then leave them, in dignity, to forge ahead for themselves. The convention of passing neatly through clearly delineated stages of grief is completely ignored here; there is no narrative gesture toward closure. Latiolais is bold and frank, and utterly unsentimental.
From the many mundane hours of the day, from the multitude of ordinary days and nights, Latiolais chooses her moments with tremendous care, dwells in them fully, and lays them bare for us to gaze, in wonderment, at all their momentous significance. These short pieces are in the tradition of Virginia Woolf's "moments of being," not only for the characters, but also for readers as we are enfolded in each story. Latiolais's involutions capture how deep grief distorts and collapses time, and how movement through such grief is not usually orderly, timely, and linear. Though the book ends with a story that inhabits bereavement, much like the opening piece, we've taken a transformational journey there. Widow rivets our attention because it offers what all literature, tragic, comical or otherwise, should: a distillation of experience and a concentration of thought that invests a simple moment with all the profundity of existence itself.