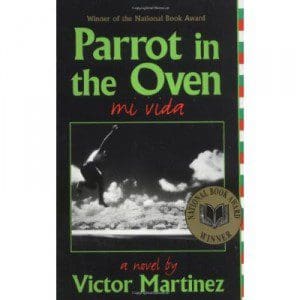 I first read Victor Martinez's novel Parrot in the Oven: Mi Vida when I was eleven, just a couple years younger than Manuel Hernandez, the book's narrator and titular perico. Parrot won the National Book Award in 1996, making it more or less required reading for anyone my age (except where it was banned).
Like many of the adolescents who read it, my life was radically different from Manny's. I didn't have to work. My parents left books, not loaded rifles, lying around the house. I didn't have to look after my baby sister; my parents hired people to look after me. They had the time and the energy to keep track of me. We always had enough food.  These were things that, at eleven, I very much took for granted. So reading Parrot was unpleasant; it caused a nauseating disorientation, a sudden burst of awareness. Here was another life, so very different, running parallel to mine.
Always get the last word.
Updates and special offers straight to your inbox.
Keep up with the latest from ZYZZYVA by subscribing to our newsletter.
By subscribing, you agree to our Terms of Use and acknowledge that your information will be used as described in our Privacy Notice.
When I heard Martinez had died, I went to the book again and realized Parrot in the Oven was the first work of literary fiction I ever read. Until then I was reading mostly Agatha Christie, or this fantasy series about a bunch of mice that run an abbey. Reading Parrot you can tell Martinez was a poet—Manny is all innocence, all eagerness and shame, an awkward adolescent boy, but the language is original, the metaphors delightfully screwy. The sun is "as bright as an egg yolk leaking an orange finger across a plate"; Manny would rather be "dragged across a cactus and dropped thirsty in a lake of salt" than listen to his dad. Tough guy Boise "looked like a boxer, his nose square and puffy around the eyes, like he'd just awakened from a dream of beating up people."
Manny's strongest emotions always seem to manifest in his lungs. When a rifle in his hands goes off and he almost shoots his baby sister, it gives his lungs "a peculiar sponginess, as if apart from my body they'd been sobbing for hours." When he makes out with a girl during his gang initiation, his lungs are "heavy as soaked towels." It's sadly convergent that Martinez died of lung cancer. Polyps on his vocal cords — polyps he had since youth, likely the result of pesticide exposure from picking crops as a boy — grew malignant and spread to his lungs. It's as if he was always listening to his lungs, locating his fate there. His poetry confronted death and disease over and over. In "National Geographic," published in ZYZZYVA's Summer 1988 issue, Martinez wrote
all hell starts shooting up inside your anatomy.
Organs collapse, skin loosens to the pinch, burn spots
from a gagging liver begin to sprout everywhere,
everything is rocking on ice, shifting on plates
and avalanching down a crotch.
Since his death, Martinez has been remembered by people who knew him personally. He was an energetic and valued member of the Bay Area literary community — a founding member of the Chicano poetry collective Humanizarte, a regular contributor to El Tecolote, and a fixture at the Writer's Grotto. Though he wrote like it was his job, he had difficulty getting his work into print — Parrot in the Oven was his only published novel, Caring for a House the only published collection of his poetry. A memorial on Mission Local hints at two unpublished novels.
If I could offer Victor my thanks now, I would thank him for allowing his only novel, originally intended for an adult audience, to be marketed to young people. I would thank him for its life-saving honesty, and for showing literature does more than tuck you in at night — it startles you awake, and breathes urgently on your eyelashes.