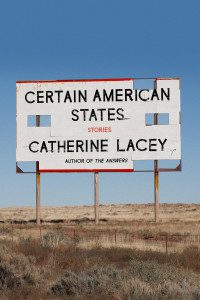 A self-described "not-widow" brings a newlywed couple to the grave of her ex-husband; a cartoonist with a massive trust fund tries to teach law students to watercolor as his marriage falls apart; a recent divorcee obsesses over whether his ex-wife's latest fiction is about him. The characters in acclaimed novelist Catherine Lacey's debut story collection, Certain American States (208 pages; FSG), grapple with grief and their own loneliness.
The collection is a deep dive into the human psyche, focusing on a memorable and flawed cast of narrators and their connections to others.  There's an emotional richness to these stories as they deal with the recent end of long and meaningful relationships, whether due to death or divorce or simply the inevitable "airplanes of soon."
After her husband's abrupt passing, the narrator in "Please Take" leaves piles of his clothing on the steps to her apartment for passersby to carry away. A few days later, she makes her habitual trip to the park, a small routine that has taken on the importance of a "single nail somehow holding up the whole home," and comes across a stranger wearing her husband's blue shirt. During her ensuing conversation with the man, who is troubled by the fact that no one he's ever known has died, the narrator tries to process her husband's untimely death. Lacey weaves memory with introspection, and gives us a character trying to move forward from a traumatic event while wondering if she "worried it into being."
Always get the last word.
Updates and special offers straight to your inbox.
Keep up with the latest from ZYZZYVA by subscribing to our newsletter.
By subscribing, you agree to our Terms of Use and acknowledge that your information will be used as described in our Privacy Notice.
The relationships dissected here are not all romantic in nature –– also present are long-reaching friendships, family ties, and brief interactions with strangers. What these connections have in common is their level of complexity.
The characters in Certain American States all have a strong sense of self and they often consciously perpetuate their own isolation. For Bridget in "Family Physics," this includes holding her family at arm's length and hoping for solitude: "…though I thought of cutting them out entirely, I had already learned the hard way, years ago, that such an extreme approach was more trouble than it was worth, like shaving your head––like any short hair cut—some kinds of obliteration required constant upkeep––so I let my relationship with them get overgrown and ragged."
Lacey explores the dynamic nature of relationships over time, as characters face those who have played an important role in their lives. In "ur heck box," the narrator grieves for her brother as she attempts to dissuade her mother from joining her in New York City; she's struggling to reconcile her upbringing with her present self. All the while, she repeatedly encounters a deaf man named Maurice, who is desperately trying to tell her something but can only do so through messages misspelled to the point of incoherence.
Lacey's prose is fluid, frequently employs long streaming sentences that extend for a paragraph or even a page. These sentences work as lush demonstrations of her characters' mental states. One shorter example comes in "The Healing Center":
Everyone knows a heart is just responsible for filling a thing with blood, except it never fills love with blood because no one can do that because love comes when it wants and it leaves when it wants and it gets on an airplane and goes wherever it wants and no one can ever ask love not to do that, because that is part of the risk of love, the worthwhile risk of it, that it will leave if it feels like leaving and that is the cost of it and it is worth it, worth it, worth it.
Certain American States is steeped in a devastating realism until its final story, "The Grand Claremont Hotel." The initial premise is straightforward enough––while staying in a hotel on a business trip, the narrator finds out he has been fired from his job at the Company, and decides to inhabit Room 807 until he's kicked out. When no employees eject him from the room, but rather offer him different rooms, the character moves progressively upward in the hotel, feeling as though he is "just passing through a series of spaces that had never been meant for [him]." The ensuing claustrophobia and disconnect from the world outside the hotel mirror the rest of the collection in tone, if not in plot.
Whether in the bustle of the cities or the empty quiet of Montana, Lacey shows there is no escaping the entanglements of one's personal life or the complex relationship with the self. But there's something more at work here. In the titular piece, Lacey writes that "the loneliness of certain American states is enough to kill a person if you look too closely." While this may seem like a commentary on the vast expanse of flyover country, it reminds us that loneliness inhabits all of these stories' settings. These stories seem to say that the state of being an American is itself one of loneliness, of isolation.