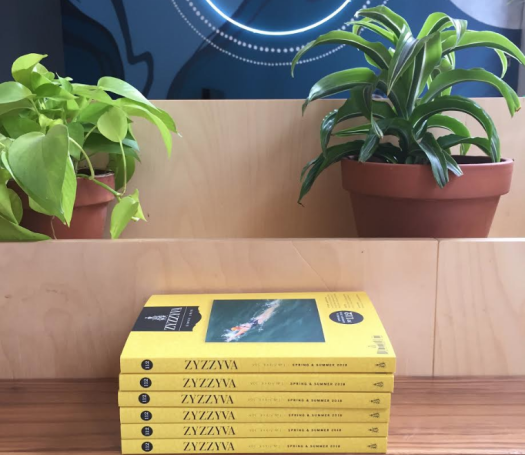 We strive to fill each issue of ZYZZYVA with a dynamic and challenging blend of contemporary fiction, poetry, and non-fiction. Here's a sampling of some of the writing in Issue No. 112, which you can get today with a subscription to ZYZZYVA:
An interview with Man Booker Prize-winning author PAUL BEATTY: I think the real reason I set The Sellout there [in Dickens] is that there's this weird neighborhood in L.A…There are a lot of weird neighborhoods in L.A. [Laughs] This one is called Richland Farms. It's a small little section of Compton. My sister teaches there, and when we were little my mom used to drive us to—I don't even know if they still have it—to the Watts Parades, which were like a celebration of the Watts Riots. Not a celebration of the riots, but…I guess a celebration of surviving the riots? You'd go through there and occasionally you'd go down these streets and you would see black people on horseback, just riding down the street. It's something that stayed in my head…So one day my sister was telling me that her students come to class with milk that they've bought from their next-door neighbor's cows—like the neighbors milk the cows and sell the kids the milk for fifty cents. So it's this weird section of Compton that's zoned for livestock and stuff like that. It's just something I've always been thinking about and no one knows about it.
Always get the last word.
Updates and special offers straight to your inbox.
Keep up with the latest from ZYZZYVA by subscribing to our newsletter.
By subscribing, you agree to our Terms of Use and acknowledge that your information will be used as described in our Privacy Notice.
Ugly and Bitter and Strong, an essay by SUZANNE RIVECCA: What struck me about the people at the center of these stories—Wooolson, the relic-destroying classical scholar, the Academy suicides—was how uncomfortable they made everyone else, and how swiftly and neatly their breakdowns were classified, and thereby negated. They were crazy. They had diseased brains. They were destined for this end. And I knew that Italy did not break them; it merely threw their brokenness into profound and excruciating relief. But I didn't want to believe that they had all merely succumbed, as fated, to some inborn flaw in their synaptic composition. I wanted to believe that there was something Woolson had left undone, something the Academy ghosts had left undone: something they averted their eyes from, and ran from. Something they could have confronted and survived.
Barbara From Florida, a short story by MADDY RASKULINECZ: Eric and Casey had a lot of advice for Alison about being a pizza boy. Mostly the advice was about getting robbed, which was an inevitability. They told her not to put the topper on top of the car and to always park directly in front of the customer's house. They disagreed over keeping a gun in the car. Case and Malcom had guns and Eric did not. It was against the rules of the pizza store, Miles the manager had told her. The pizza boys agreed he had mentioned it specifically because it was specifically a very logical idea. They agreed it was best to have a fake wallet with a fake driver's license and fake credit cards in it. Eric and Casey and Malcom were younger than Alison, younger than twenty-one, and all had fake IDs for many of the things they liked to do. Casey offered to get Alison a fake ID and Alison accepted…The fake ID that Casey brought her said she was Georgina, from Georgia.
Read these pieces in full by subscribing to ZYZZYVA, or just ordering Issue No. 112.