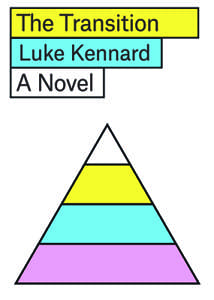 With frequent moments of insightful social commentary, Luke Kennard's first novel, The Transition (328 pages; FSG), takes us to an exaggerated version of our current society—a dystopian world of recognizable stress.
Karl and Genevieve are both university-educated and hold decent jobs. Genevieve works as a teacher, and Karl has a dubious career as a fake product reviewer and ghostwriter for lazy college students who can afford his services. In the first few pages of the novel, we learn things have gotten to the point where the "average age of leaving the parental home drifted into the early forties." At the same time, things such as male contraceptive implants, self-driving taxi cabs, and self-refilling refrigerators are common. Without the help of their parents to fall back on, Karl and Genevieve struggle and flail. In their early thirties, they still can't afford to live alone — instead they rent a room in a shared house; having children remains out of the question. As rents keeps rising, Karl (secretly) opens up more credit accounts to pay for groceries, car repairs, and vacations they can't afford. Whenever Karl complains about their lot in life, Genevieve reminds him that they are still wealthier and better off than ninety-seven percent of the world's population.
Always get the last word.
Updates and special offers straight to your inbox.
Keep up with the latest from ZYZZYVA by subscribing to our newsletter.
By subscribing, you agree to our Terms of Use and acknowledge that your information will be used as described in our Privacy Notice.
To pay off some of his debt, Karl becomes involved in credit fraud and is ultimately caught. He is given an offer: go to jail for fifteen months, or participate in a pilot scheme called the Transition. After choosing the latter, he and Genevieve spend six months living with older mentors who guide them through concepts like employment, finances, relationships, and more. In other words: Adulting 101. The goal of the program is that by the end of their sentence, the couple will have paid off their debts and have enough money saved for a down payment on a house.
This too-good-to-be-true "Get Out of Jail Free Card" soon becomes a burden to Karl. He continues to land himself in trouble, and his relationship with Genevieve grows increasingly strained. Karl's developing suspicion of the ill intentions of The Transition becomes the novel's central conflict. Though Kennard expertly introduces new conflicts and builds suspense, there's no dramatic conclusion to his story. In fact, the novel is consistently anticlimactic; just when you think there will be an aha! moment, Kennard adds another layer of complication and ambiguity. (Are the villains really villains or simply people looking out for themselves?) And each character is flawed in their unique ways.
The Transition is not as easily definable as a typical dystopian novel. Kennard writes cleverly about an unlivable economic climate, sprinkling instances of lovely nuance and truthful observation throughout. The novel never preaches or patronizes the reader. Instead, The Transition serves as a funny, fresh, and all too likely depiction of the future.