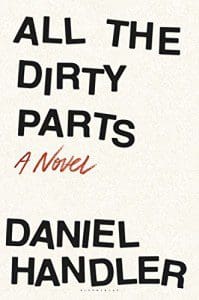 With his new novel, All the Dirty Parts (144 pages; Bloomsbury USA), Daniel Handler once again displays a preternatural understanding of teenagers (or an exceptionally detailed memory of his own youthful experience). Handler's book is the first to make me remember what it was like to be seventeen years-old – in a good way – which is a testament to how honestly the book captures the frantic energy and sexual drive of that time, as well as the pain and confusion which can trail close behind. Handler, who appears in ZYZZYVA No. 76 and No. 100, and is already a legend under his pen name of Lemony Snicket, lends his biting and bittersweet wit to Cole, our sex-crazed narrator. Wisely, Handler leaves out the sort of romantic fluff many novels about teens cloak themselves in, and instead hones in on "the dirty parts." All the Dirty Parts leaves behind the fantasies of "happily ever after," in favor of the more immediate happy endings most teens think about.
Handler's slender novel passes through a year in Cole's life, although time moves in jumps and starts. We see Cole move through several short, sexually driven relationships before they cool off and he ultimately finds himself involved more deeply than anticipated with his best friend, Alec, and later Grisaille, a French foreign exchange student. Cole can be aggravating and unlikeable but if we were honest many of us would admit we weren't all that likable as teens, either.
Always get the last word.
Updates and special offers straight to your inbox.
Keep up with the latest from ZYZZYVA by subscribing to our newsletter.
By subscribing, you agree to our Terms of Use and acknowledge that your information will be used as described in our Privacy Notice.
What distinguishes Cole's story is Handler's sparse description of the fragile and vicious ecosystem created by teens. They rarely see themselves as cruel, least of all when it comes to sex; they can, however, deeply feel the cruelty inflicted upon them. The power disparity that exists in their minds–the "me versus the world" mentality–comes through in Cole's stream-of-consciousness narrative. We find ourselves on his side through several repulsive episodes, temporarily forgetting other characters' feelings. This very narrowness of focus, the literal inability to see other points of view, constitutes the novel's summation of what adolescence is. In other circumstances, this claustrophobia would be irritating; in a novel about a teenage boy's sex life, one wonders how it could be written any other way.
Divided into sections of varying lengths representing Cole's trains of thought, the novel gives us short passages acutely fixated on one messy emotion or moment that can accompany sex—rage, confusion, betrayal, even addiction—before halting and veering to the next. The absence of traditional chapters is refreshing, and contributes to the breathless, almost carnal anticipation of the next section. It might be possible to read All the Dirty Parts at a normal pace, but every part invites the reader to rush headlong until the last page, which stops us like a brick wall.
Form follows content, and Handler expertly wields both to produce an all-around startling work. The depth of emotion we experience through Cole's eyes is matched perfectly by the sparseness of language. Handler's diction is sometimes poetic, sometimes merely functional. In both cases, his wording seems entirely true to what a teen like Cole might think or say—a feat other novelists have struggled to match.
Readers may find the moments when they dislike Cole the most serve as a painful reminder of those moments as a teen that hurt the most: the girl who stole your boyfriend, the one that got away, perhaps the first time someone looked you up and down and then looked away–or the times you can recall doing something similar to someone else. The intense reality of All the Dirty Parts comes from its curious ability to draw out the memory of our teen selves—the awkwardness and the ecstasy alike.