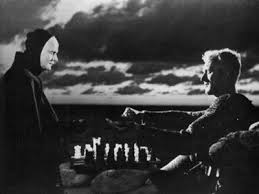 Stars: 10/10
Always get the last word.
Updates and special offers straight to your inbox.
Keep up with the latest from ZYZZYVA by subscribing to our newsletter.
By subscribing, you agree to our Terms of Use and acknowledge that your information will be used as described in our Privacy Notice.
Bergman. You know, people said he wasn't as good as Dreyer. They said it. They said he couldn't do it. He did it, though. He really went and did it. I mean, people are worried about death. Capital-D Death. They want answers, they're dying, they're not happy. So this guy, big handsome-looking Norwegian guy, European guy, you know, he plays chess with Death. Death doesn't know what to do, he's like, "I've never seen anything like this before." It's true, folks. Never before—no one's ever seen this before. They keep playing, they're on a beach, it's great. There's the black plague, and a smith whose wife runs away with a jester, and everybody's upset. Then this woman talks to the devil, and she gets everybody all upset. Lots of wailing and whining. They don't have a clue, they don't know how to win. OK. They get together and escape in a carriage, and, but, before this the guy with the blonde hair, the real Viking guy, gives away his strategy. He's trying to cheat Death and Death's trying to cheat him. There's lots of philosophy, they eat some strawberries. Near the end some of them get away but this guy, he chokes. He chokes, what can I say? Tries to swipe the pieces off the chessboard, but it's done, it's over, kaput. And Death gets them in a castle, he gets them good. And they're brave. They lost, but they're brave, and they said some nice things. Anyway, it's a great movie. They lose but it's a great movie, just tremendous. I've always said it and I'll say it again: don't skip Bergman if you can help it. He's at the top of the heap, better than Fellini, better than Godard, all of those stuffy ballerinas—they're overrated and everybody knows it. This movie doesn't have time for any of that. It says, OK, Death, let's play chess. You hop my queen and I hop yours. No settling, no recounts. You know, you know you've made it when the Muppets are saying how good you are. Lovely people, the Muppets. The Swedes, too. You've made it.