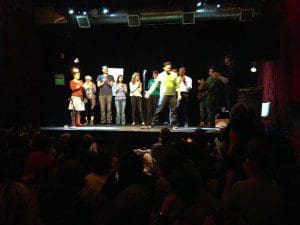 In 1997, in hopes of recreating the experience of swapping stories with his friends on long summer nights in Georgia, poet and novelist George Dawes Green founded The Moth. Since its first event, held in the living room of Green's New York City apartment, The Moth has grown into an influential organization known for bringing out original and affecting stories from everyday people around the world. The stories can be funny, or sad, or dramatic, or light, but, above all else, they must be true. The rules are simple: start with the theme for the night, come up with a story drawn from your own authentic experience, hone it until the stakes are real and the consequences apparent, and keep it within the constrained time. Then, if you are picked and get to climb up on stage, no notes are allowed.
This basic, but fundamental, formula has spawned multiple iterations of The Moth.  There's The Moth Mainstage, which invites well-known artists, scientists, and celebrities (Salman Rushdie, Malcolm Gladwell, and Dan Savage have all spoken), as well as anyone with anything interesting to say, to tell their story, many of which are available to watch online.  There's The Moth Radio Hour and The Moth Podcast, both of which collect the best Moth stories and sometimes even dig deeper, exploring how those stories came to be.  There's a book that features adaptations of stories that have previously been performed, as well as several Moth community and education programs. But on a recent Monday night at the Rickshaw Shop, an event space decorated with bicycles and drab couches in San Francisco's Hayes Valley, I had come to what was perhaps their most inclusive, interactive, and widespread program of all: the open-mic Moth StorySLAM.
Always get the last word.
Updates and special offers straight to your inbox.
Keep up with the latest from ZYZZYVA by subscribing to our newsletter.
By subscribing, you agree to our Terms of Use and acknowledge that your information will be used as described in our Privacy Notice.
The night's theme was "Escapes." The host pulled a name out of a brown cloth bag, announced it, and a short woman, her brunette hair tied up into a bun, emerged from the crowd.  Each StorySLAM allows only ten storytellers to take the stage, though often many more will submit their names. This woman had the daunting task of being the first. With a slight nervous warble that slowly dissolved as she went on, she told a moving story of running away from her father and his alcoholism as a teen, only to be picked up by a series of truck drivers, who eventually, and unexpectedly, delivered her back home. She finished just before her allotted five minutes were up, and soon a petite woman in her sixties took her place. Sporting bright silver hair and a sweater that hung off her in elegant waves, she began, tantalizingly, with, "I once was exchanged for a bag of wheat." What followed over the next five minutes (plus one extra as she rushed toward her end) was a story about visiting Russia from her native Ukraine, her illicit thesis, and a stern border officer who would not let her through. When she was done, another story came. And then another. And another. In little over an hour, ten stories had been plucked from the crowd.
Although the performers displayed a range of different styles and techniques, they each unraveled a narrative that was undoubtedly and authentically theirs, fully clothed in their personal quirks. One woman told a story of the chickens she owned as a young girl, her eyes widening each time she described them, as if everything she said had just happened to her. An energetic, middle-aged man inhabited two characters at once, moving from one side of the mic to another with quick, fluid steps, as he described his relationship with a troubled student. A fireman, tall and athletic with a sharp, angled chin, had to stop himself as he described the aftermath of a gruesome accident early in his career. Tears welled up in his eyes as he remembered, then his gaze dropped. Several audience members had to look away.
The best stories of the night were able to combine elements of theatre with the intimacies of conversation, and then surprise the audience with sharp narrative turns. I was drawn into the details of one man's story as he wryly described a harrowing camping trip he took in a canyon with an old girlfriend. There was a cut finger, a flood, a race to get out, then a rescue as the water continued to rise. By the story's conclusion, though, with a few clever, well-placed lines, he had deftly moved from the fast-paced action to a more nuanced remembrance of his failed relationship. The night's winning story belonged to Mark Voshrow, a tall, lanky man in his twenties who spoke with an excitable, intoxicant glee. He spent his five minutes recounting, with increasing urgency, the time when his friend accidentally got him stuck in a fold-up couch. His fingers lost feeling and his lungs lost air, but eventually a neighbor came and—as Voshrow illustrated with his whole body, swinging his long arms around—released him from his cage.  The comedy (as well as the significance) of this action quickly became devastating as Voshrow reached the end of his story and turned it on its head. His story earned him his prize and a slot at The Moth's San Francisco GrandSLAM Championship at the Castro Theater in April.
Before the night was over, the host invited up all the storytellers who were not picked to recite what would have been their first sentences. One by one, they approached the mic: some sheepishly, some with a noticeably teasing delight. The effect was invigorating, reminding us of the emergent possibilities of stories, of the questions that lay within them, the way they somehow open up the world. With that, the audience filed out into the evening, where the air hummed with the first warmth of spring. Around me, I could already hear people sharing their stories.
The Moth San Francisco GrandSLAM Championship will take place on April 8 at The Castro Theatre. You can buy tickets here.