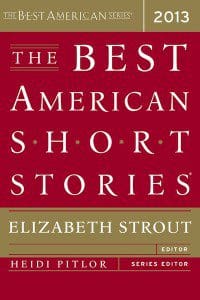 We announced here earlier in the year the inclusion of two ZYZZYVA pieces in the forthcoming Best American Essays and Best American Short Stories: respectively, Dagoberto Gilb's "A Little Bit of Fun Before He Died" (Issue No. 95, Fall 2012) and Karl Taro Greenfeld's "Horned Men" (also Issue No. 95).
Today we learned ZYZZYVA made the Notable lists for both prestigious anthologies, too. Ron Carlson's story "Line From a Movie" (Issue No. 96, Winter 2012) won recognition in BASS, and two nonfiction works were similarly recognized in Best American Essays: Rick Barot's "Morandi Sonnet" (No. 96) and Luis Alberto Urrea's "The Mr. Smith Syndrome" (again, No. 95, unofficially known as Our Most Acclaimed Issue Thus Far—and by the way, if you don't have it, why not get a copy?)
Always get the last word.
Updates and special offers straight to your inbox.
Keep up with the latest from ZYZZYVA by subscribing to our newsletter.
By subscribing, you agree to our Terms of Use and acknowledge that your information will be used as described in our Privacy Notice.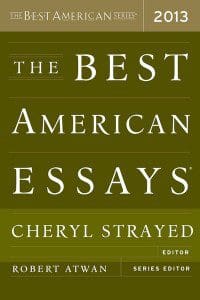 Upcoming and recent contributors to ZYZZYVA also appear in both anthologies for work published elsewhere. Vanessa Veselka (No. 96) will have her GQ piece "The Truck Stop Killer" republished in Best American Essays. J. Malcom Garcia, whose work in McSweeney's lands him on the Best American Essay Notable list, has a story coming out in our Winter 2013 issue.
On the BASS Notable list this year are Don Waters (Issue No. 94), for work in Southwest Review, and Elizabeth Spencer, for a story in Epoch. Waters also has a story in the Winter issue, and you can read Spencer's story "The Wedding Visitor" right now in the latest ZYZZYVA. And making the Notable list of both anthologies is Peter Orner (No. 94) for work in Ecotone and Fifth Wednesday.
Congratulations to all! We are honored to be working with and supporting such fine writers.
UPDATE: The Best American Nonrequired Reading 2013 named four ZYZZYVA stories on its notable list: "A House Well Furnished" by Brian Boise (Issue No. 95), "Chemistry" by Rob Ehle (Issue No. 94), "Joshua Tree" by Dawna Kemper (Issue No. 96), and "The Wheel at the Cistern" by Bruce McKay (No. 96).