Last year, Chinese scroll artist Zhang Daqian raked in $506 million in auction sales, surpassing Andy Warhol by a good $175 million. This is significant.
Asia's appetite for art has expanded in direct proportion with the region's rapidly developing economy, which has been largely unfazed by the U.S. financial and European debt crises. China, which is opening museums at a rate of about 100 a year, now accounts for 41 percent of total world art revenue, up from 33 percent in 2010, and shows no signs of slowing. At this point, it is not unthinkable that New York might give way to Hong Kong as the world's art capital.
While this market boom and the artistic excitement it has stoked is certainly thrilling, it also saddles museum curators, especially in the West, with a gigantic responsibility: to tell a story of contemporary Asian art independent of the one the market does (and media broadcasts), delving into the nooks between the numbers and exposing phenomena to which the metrics may be blind.
"Phantoms of Asia" at the Asian Art Museum is a historically significant show in this regard. With 60 contemporary works by 31 artists, it is the largest contemporary exhibition to date at the museum—one of the largest institutions devoted entirely to Asian art in the Western world. As such, the exhibition had a number of important choices to make and questions to answer: among them, how to delimit the show thematically (if at all), and how to define Asia in the first place.
Always get the last word.
Updates and special offers straight to your inbox.
Keep up with the latest from ZYZZYVA by subscribing to our newsletter.
By subscribing, you agree to our Terms of Use and acknowledge that your information will be used as described in our Privacy Notice.
Co-curators Mami Kataoka, of the Mori Museum in Tokyo, and Allison Harding, of the Asian Art Museum, decided to invite artists to address "the big questions"—how do we fit into the universe, where do we go after we die, how do we commune with the immaterial, and the like. These cosmological concerns are universal, but hold special prominence in Asian belief systems, and continue to have impact in Asia, even among modern cosmopolitans. When the enormous skyscrapers of Hong Kong were first starting to go up, Kataoka noted, ancient questions of how to achieve feng shui, or positive spatial energy, garnered serious consideration from citizens and real estate developers alike.
Contemporary representations and retoolings of ancient religious symbolism and mythology abound in the exhibition. Aki Kondo's impressive mural, "Mountain Gods" (2011), consisting of seven five-foot high panels featuring a colorful confusion of anthropomorphic forms, harkens to the auspicious deities that inhabit the mountains in Japanese lore—a mythos to which the artist turned without hesitation, when a mountain range shielded her town from destruction during last year's devastating earthquake and tsunami.
For his multimedia installation, "What Kind of Hell Will We Go," Takayuki Yamamoto briefed a class of Bay Area school children about the Japanese afterlife framework, which maintains that each person goes to some specific hell before moving on to heaven because everyone is imperfect in at least one regard. The artist then asked them to create dioramas of the kind of hell they think they would wind up in and to explain it on camera. The results, equal parts cute and disturbing (one child goes to "bad word hell," where she is repeatedly burned, stabbed in the chest and then thrown in with the sharks), speak to the immediate cross-cultural ability to comprehend such moralistic ploys, at an age as young as seven.
Some of the exhibition's most interesting works not only engage contemporary Asia with its own traditional shadows, but also rein Western paradigms into the mix. Adrian Wong, an artist and academic who splits his time between Hong Kong and Los Angeles, constructed two rooms within the museum from the ground up—every architectural and decorative decision up to him. Turning to the expertise of a team of Eastern mystics and spiritual advisors, Wong purposely constructed one room to have maximum "positive energy" and the other to have maximum "negative energy," in effect producing a sort of controlled experiment of the Western scientific model: would visitors be able to tell which is which?
The answer seems fairly obvious. One room has an open plan and upward sloping floor and roof; the other's space is interrupted by a large fichus stuck dead center; it's floor slopes downward and it is darker. A Western interior architect might opt for a language of efficiency versus inefficiency to explain the difference. But while such a vocabulary may serve roughly the same end as the Chinese notions of auspicious and inauspicious energies, it strikes a significantly different conceptual chord. One framework situates space as something to be dominated and utilized; the other presents it as an interweaving of ethereal life forms, which one must respectfully negotiate.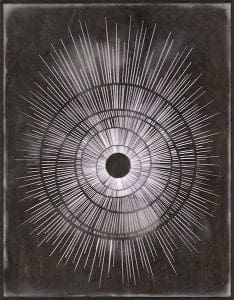 Palden Weinreb's delicate, geometric paintings introduce a similar tension between Eastern and Western interpretative frameworks. The abstract spiral form in "Envelop" is as intricate as it is simple: it consists of clean, meticulously spaced monochromatic lines, muted and mathematical, devoid of any gestural qualities. As such, it falls under the umbrella of minimalism, a movement especially prone to being cast in terms of Western philosophy: reduction, abstraction, the rooting out of essences. Weinreb's work, however, is the result of an altogether different, if not incompatible, way of thinking: Tibetan meditation. Notions of transcendence, sublimity and cosmic mystery emerge as a rivaling and perhaps richer conceptual milieu for the minimal.
In Asia, buyers still heavily prefer Asian art. The disposition is so strong that Sotheby's has had to implement a systematic educational campaign to convey the value in Picasso or Mondrian to the Asian market. "Phantoms in Asia" can be seen as the mirror image of this educational endeavor; the exhibition exposes the value in traditional Asian cosmology and its accompanying conceptual framework as tools for viewing Eastern and Western art alike. If the market speaks of shifting geographic focus in the art world, "Phantoms" speaks to a shifting conceptual one.
"Phantoms of Asia" runs through September 2 at the Asian Art Museum, 200 Larkin St., San Francisco.