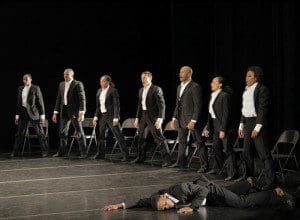 The experience of attending an Alvin Ailey American Dance Theater performance is slightly different from that of most other dance company productions. The audience is more diverse both in age and race, and often treats the performance not as a spectacle to sit still and watch in reverent silence, but as a series of invitations and provocations, a sort of call-and-response with movements and shouts, spontaneous applause, and whistling. That was true the first time I saw them perform at New York's venerable City Center, and even more so earlier this month at Zellerbach Hall, as part of the Cal Performances season. Even before the performance started, there was a buzz in the air—a joviality in the ticket line and loquaciousness among the already-seated that usually only precedes the performance of a particularly famous dancer, a Carlos Acosta or Sylvie Guillem.
Always get the last word.
Updates and special offers straight to your inbox.
Keep up with the latest from ZYZZYVA by subscribing to our newsletter.
By subscribing, you agree to our Terms of Use and acknowledge that your information will be used as described in our Privacy Notice.
After a casual pre-curtain chat from new artistic director Robert Battle, the performance opened with "Home," choreographed by hip-hop artist Rennie Harris and set to gospel house music. (Did you even know that existed?) It's doubtful many people would have perceived that the piece was about HIV had we not been told in the pre-show talk, but it was nevertheless wonderful, and refreshing, to see hip-hop and street dance done so well. As impressive as these forms of dance can be, well, on the street, they become something transcendent in the bodies of trained dancers, who have at their command grace, strength, precision, and the ability to infuse their movements with emotional weight, and can employ all of these elements simultaneously without betraying the effort that goes into it.
After a hilarious entre-act solo by one of the dancers, Ohad Naharin's "Minus 16" opened with a rapid-fire series of gestures by the company sitting in a semi-circle onstage, set to traditional Israeli music. Rarely is something so repetitive also so flashy, and as it became possible to memorize the steps of the piece, so increased, paradoxically, the suspense of what it was all going to build up to. The dancers ended up flinging their clothes off, and we were more than happy with that outcome. Other parts of "Minus 16" involved dancers pulling people from the audience onstage to dance with them, in what must have been the most thrilling, or terrifying, or both, moment of their lives as dance fans.
But the real triumph of the evening—the reason one goes to see Alvin Ailey American Dance Theater—was "Revelations." The most-performed modern dance in the world, Ailey's work seems to cover the whole of human experience in thirty minutes. From the tortured self-doubt of "I been 'buked" (full of angular, precise movements that harken back to Ailey's beginnings as a Horton dancer) to the serene, unhurried, forward-moving joyousness of "Honor, Honor," the panic of "Sinner Man," and the flirtatious swagger of "Rocka my Soul," "Revelations" is an example of the very best of American culture, and perhaps even of the best in art, period. That is, rooted in the sounds and sights associated with one group of people of a particular time and place, it speaks of something anyone might relate to, understand, and be moved by. It's the sort of performance that makes you leave the theater walking taller, more likely to smile and talk with people in line at coat check. It primes you to revisit it in your mind's eye in the following days, months, and years, recalling the exhilaration you felt upon seeing it and the near-palpable sense of giving and receiving between the artists and the audience. It leaves you wondering how something visually and musically borne of a tradition so rife with pain and injustice can transmit, even now, such joy.
Read more from Larissa Archer at her blog, larissaarcher.com.