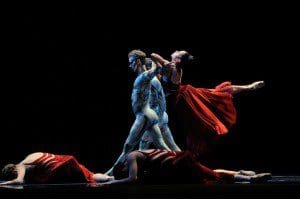 Helgi Tomasson, the San Francisco Ballet's artistic director and principal choreographer, combined elements of modern and classical ballet to create "Trio," set to Tchaikovsky's Souvenir de Florence. While much of the ballet recalls the aggrandized ballroom prancing one sees so often, softened arm positions and unusual footwork modernized the movements. The women's richly autumnal-colored dresses, though shaped like a slightly less stiff version of the lampshade skirt (ballet's frumpiest costume), were slit to the hip, and allowed a leg to swing out in many steps and kept the piece from looking as primly traditional as it might have otherwise. But while the first and third movement of "Trio" seemed trapped in a sort of generalized exuberance, the middle piece offered a heartbreaking, and ambiguous, drama.
Always get the last word.
Updates and special offers straight to your inbox.
Keep up with the latest from ZYZZYVA by subscribing to our newsletter.
By subscribing, you agree to our Terms of Use and acknowledge that your information will be used as described in our Privacy Notice.
The program notes describe the pas de deux (which turned into a pas de trois) as "lovers and death," but I admit I had a less allegorical interpretation: the lovers and the cold, controlling husband. The lovers' pas de deux was delicate and sensuous, and somehow maintained these qualities even after the intrusion of the third character added desperation and struggle to the combination. Dana Genshaft's acting abilities helped, alternately evoking tenderness and fear as she was passed back and forth between the two men battling for possession of her.
Choreographer Yuri Possokhov mined the short but influential tale from Dante's Inferno for "Francesca da Rimini," whose title character falls for the brother of her husband (while reading the tale of Lancelot and Guinevere, no less), who in turn kills them both, consigning all three to hell. Again using Tchaikovsky's musical interpretation of the same story, Possokhov's lovers bypassed the delicacies of courtship and leaped straight into a tortured adult affair, dancing with the near-violent recklessness of those whose union causes them genuine and acute guilt, and who hope to expiate that guilt by abusing the person they fell with. Possokhov also dodged cliché by creating a jilted husband who could elicit sympathy, further strengthening the adulterous lovers' conflict. Vito Mazzeo soared in the role of the husband; the bravura leaps and turns that are often used as a sort of empty showboating in classical ballets here seemed to be the real physical manifestation of jealousy and righteous vengefulness. Also spectacular were Hell's three gatekeepers, fashioned after Rodin's sculpture: writhing swamp-things who seemed more than delighted to drag the unfortunate trio to the underworld at the finish.
Cute at times, cutesy at others, Alexei Ratmansky's "Le Carnaval des Animaux" offered a few faint laughs, but ultimately missed the opportunity to express the (granted, anthropomorphized) "personalities" of the featured animals through dance. The whole farm was rendered with a sort of uniform slapstick humor that cold be grating, particularly with the "Dying Swan," adapted by Ratmansky from Michel Fokine's choreography. Originally a lesson in dying, Fokine's swan remains true to herself, so to speak, beautiful and full of grace even as death encroaches. Rather than rage against the dying of the light, she takes her last look at the sky before neatly folding her body in on itself for death to take away. Ratmansky's Swan couldn't die with dignity or with her distinctive gracefulness intact, but had to jerk her wings back and forth, gasp and collapse while being ogled by a bunch of sea anemones.
Read more from Larissa Archer at her blog, larissaarcher.com.