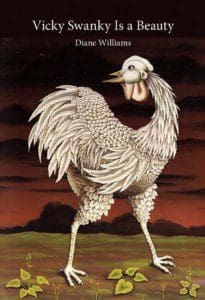 There are 51 stories in Diane Williams's new book of short stories, Vicky Swanky is a Beauty (McSweeney's Books, 118 pages), and not one of them is longer than a page, front and back. I read the collection in a night, and spent a week and a half (with pleasure) working the text over again. Is this flash fiction? It is, except when there isn't really a narrative. Then the pieces are prose poems. Williams uses a lot of devices consistent with prose poems – the second-person voice, the posing of questions. But whether her book can be classified as one thing or another ultimately doesn't matter (beyond figuring out if it belongs in the "to read" or "to read, again" pile).
Always get the last word.
Updates and special offers straight to your inbox.
Keep up with the latest from ZYZZYVA by subscribing to our newsletter.
By subscribing, you agree to our Terms of Use and acknowledge that your information will be used as described in our Privacy Notice.
Williams has an oblique even surreal way with narrative, giving us only a little bit of detail, just enough to tell a story. And sometimes, when the story is only a few sentences long, there's hardly enough to do that. The temptation is to try to "get" the stories, but there's no key to unlocking that door. The text is reflexive; what we take away from it depends just as much on the reader as the prose itself. In a 2008 interview in The Believer, Williams said that the exclamation "I don't get it!" in response to her work is not a "pertinent" dismissal of it (or of writing in general – it could be a response to "any of our challenging circumstances," she said.) Vicky Swanky is not a passive book. Readers have to lean into it, while Williams pushes back, hard. But the result is exceptionally rewarding (Picking up the book, it's good to bear in mind Marvin Bell's essay "The 'Technique' of Rereading," in which he writes about the "method for noticing the little things in language." He encourages us to read twice, first noticing the associations a text "may stir," and then "how it says what it says, as well as what it says." That is, read slowly and attentively.)
Most of these stories are driven by voice; the emotion and bright tone of them stands out strongly. Characters seem secondary. We meet a lot of Kevins, Betsys, Waynes and Cynthias, who populate the edges of these stories but are never fleshed out to where we are fully invested in them (and Williams does intend that we care about them). They seem to be more a collective representation of American people (like, say, the reverends, the governors and mistresses that live in Hawthorne's work) than singular beings. They are the middle class people we run into at the grocery store, that live down the block from us ("They had been the Crosssticks!" Williams writes in "The Emporium"). The narrators, even if some are never named, shine. Williams is fully tuned into the emotions of her narrators: their loneliness, insecurity, and happiness. She is interested in the little, important moments of their days, as her narrators search for value in what appears mundane.
And a lot of her narrators are searching for something, people, maybe, or comfort or help. Sometimes, they are in search for more out of life than a slow drizzle. The narrator of the opening story, "My Defects," the narrator, who has "made a big mess," hints at a "sexual relation" and "reputations." There is a visit to the doctor. At the end, the narrator goes searching for the "repose of the lake," only to find that "although it does have a dreamy look, it is so prone to covering familiar ground." In two pages, Williams can cover years and multiple relationships in the life of her narrators. Solitude and sex are major themes; relationships and people often degrade over time. But there is straight up happiness, too. When it comes down to it, these stories are about people simply experiencing life, with all its comedy, tragedy and, yes, monotony (the covering of "familiar ground").
There is also the pleasure of Williams's sentences. In one story, she describes a former lover (or new fiancé, it is not quite clear to me, both are characters in the story) as "well born, noble, a home-loving wolf." And in the story "Stand," she writes, "She was counting her fingers. She said she couldn't get the neighbor's penis to do anything. As a matter of fact, I couldn't get his penis to do anything either." The sentences are dense and different. They pop. They're part of what makes Vicky Swanky Is a Beauty so enjoyable.