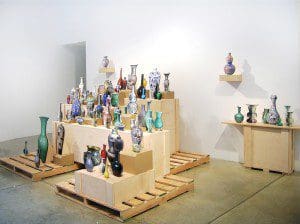 On the back wall of the Catharine Clark Gallery hangs one of the more baffling works from "Raiders," Stephanie Syjuco's solo show: a photograph of a pixilated jungle wedged between two patterned linen lumps. Bed sheets cum tropical mountain terrain?
They're Syjuco's pillows, and in the valley between them is an image of her birthplace, the Philippines, that the San Francisco artist snatched from a quick Google search and turned into a cutout. The terrain of that country, her dreamscape of a piece leads us to recognize, is only immediately available to her in digital form.
The predominant themes of Syjuco's show are represented here: namely, the relation of the Internet (a place, the artist thinks, in which "space and time have sort of collapsed," and in which a seemingly bottomless wealth of images and other representations stand on call) to both her Filipino and American identities. Indeed, Raiders is a supremely personal show.
Always get the last word.
Updates and special offers straight to your inbox.
Keep up with the latest from ZYZZYVA by subscribing to our newsletter.
By subscribing, you agree to our Terms of Use and acknowledge that your information will be used as described in our Privacy Notice.
The gallery's front room is populated (crowded, even) by an array of vase "props" — pottery-shaped flat wooden cutouts emblazoned with images of ancient Asian vases that Syjuco "raided" from the Asian Art Museum of San Francisco's website (contrary to what the show's provocative title suggests, Syjuco's appropriation was not illicit; the images are in the public domain). Typical of the art world, ever in dialogue with itself, the Berkeley Art Museum has already purchased a selection of Syjuco's Asian Art Museum–"raided" props for its own collection.
Moving along, we find a pile of what appear to be crudely bootlegged CDs ranging from the Valley Girl soundtrack to Ludacris to Boy George. Of course, this being a Syjuco exhibition, they are not actual CDs but rather wood cutouts. Price tag: a reasonable $9.99.
Syjuco's projects include the recent SFMOMA installation Shadowshop, in which she sold museum store-esque objects at affordable prices, and the much discussed Copystand installation at the 2009 Frieze Art Fair, in which she and a team of artists hastily produced knock-off replicas of art on sale elsewhere at the fair and sold them at decidedly un-Frieze prices.
"Raiders" is entirely in line with Syjuco's oeuvre, the best of which explores commodity status in a digital world, a place of unprecedented reproducibility. Both the vase and CD props (all of which correspond to digital albums Syjuco has downloaded) had been previously converted from physical commodities (precious vases, silvery CDs) to digital information (images on the Asian Art Museum website, MP3s). Syjuco, in turn, converts them back into physical form, this time through a process that earns them a new sort of commodity status — that of conceptual art. (Something tells me that the chic twenty-something who bought the Britney Spears album replica at the exhibition's opening reception would not have shelled out as much, if anything, for the music itself; like many people of her generation, she could simply have "raided" it from the all-for-free file sharing technology made possible by the net. For an artwork by Stephanie Syjuco, on the other hand, $9.99 is nothing if not a steal.)
The other "Raiders" installation at the Catharine Clark Gallery is a "reading room" offering about half a dozen copies of Joseph Conrad's Heart of Darkness, each of them printed from a different Internet source (and thus varying in format and length—a factor of how many ads wound up in the text). On the surface Syjuco celebrates the recent galvanization of Internet-as-intellectual-commons. But by choosing Conrad's celebrated novella exposing the evils of 19th century European colonialism, Syjuco draws a curious analogy between her own "raiding" of cultural objects (pottery, CDs, literature) and the longtime raiding (here, the term is literal) of colonized cultures by Europeans. Hers is a victimless act (right?), but also an engagement with the same patterns of behavior, so this exhibition seems to suggest, that so regrettably shaped her ancestors' lives.
Beneath "Raiders" seems to lurk an issue that has puzzled conceptual artists since the 1970s: In a world where information is increasingly digital, what is the artist to do? Stephanie Syjuco's answer, apparently, is to re-physicalize. Natural enough. While "space and time have sort of collapsed" as far as the Internet is concerned, the same cannot be said of Catharine Clark's exhibition space.
Stephanie Syjuco's solo show "Raiders" runs through July 16 at the Catharine Clark Gallery, 150 Minna St., San Francisco. For more information, visit http://www.cclarkgallery.com/