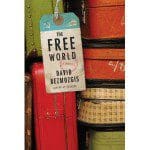 It's no easy thing to make the political personal, but David Bezmozgis has done it in his first novel, which follows a band of Russian Jewish émigrés over the summer of 1978 as they wait, in Rome, to find out which country will take them. The Free World tells a compelling story, dissecting the tangled, and often tortured lives of Samuil Krasnansky, an unreconstructed Communist and Red Army veteran; his loving wife, Emma; his sons, the taciturn, fearsome Karl and the hopelessly sybaritic Alec; along with Karl's family and Alec's wife, Polina. All of these characters emerge as distinct beings, painfully human in their foibles. But the real achievement of The Free World is how it shows people struggling with their familial obligations and the various ideologies holding sway over them. For any story about Russian Jews fleeing the Soviet Union is, inevitably, also one about the power of ideas: the failed Soviet experiment, the emotional allure of Zionism, the mythos of America, and the less clearly defined promises of Canada and Australia, which also represent potential destinations.
The challenge in presenting these ideas is to avoid the common pitfalls of the political novel — among them, speechifying and overwrought idealism. Bezmozgis does so marvelously, in part because his characters are often great talkers, distilling their travails down to a few pithy phrases. In one flashback, Samuil's uncle explains his peripatetic life as a soldier:
"I fought with the tsar because I was young and foolish. I fought with the Germans because the Bolsheviks tried to close the shops and the synagogues. And I fought with the Latvians because the Germans wouldn't leave."
Always get the last word.
Updates and special offers straight to your inbox.
Keep up with the latest from ZYZZYVA by subscribing to our newsletter.
By subscribing, you agree to our Terms of Use and acknowledge that your information will be used as described in our Privacy Notice.
Or take Lyova, who fled the Soviet Union a decade before the Krasnanskys and lived in Israel, where he served in the IDF during the Yom Kippur War and where his children and wife still live. With this experience, he could be éminence grise of Rome's Russian émigré community, advising how to navigate the bureaucracies of various consulates and Jewish aid groups. Instead, he is scarred in a way that sets him apart. Talking about his decision to leave Israel, he says that he wants to go to "a psychologically easier sort" of country. "Many people love it. To live there, you need to love it. The country asks a lot of you… I also loved it, but then I saw some things and I didn't love it anymore." He adds, with a wry humility, "So far I've been a citizen of two utopias. Now I have modest expectations. Basically I want the country with the fewest parades."
In a few sentences, Bezmozgis elucidates the great irony of leaving the Soviet Union — namely, that it doesn't get any easier. For these Jews fleeing anti-Semitism and the strictures of totalitarianism, arriving in Italy brings a kind of relief. But "dazed and pummeled by emigration," new uncertainties consume them: Where will they go, and will it be what they want? Some families begin to unravel, with "too many wives and husbands [acting] as if they wanted to annihilate each other." They had made it to "the free world — whose freedom they'd defined in no small measure as freedom from each other."
Bezmozgis's narrative comes alive through apposite phrases like the one above. He has a particular talent for appending a phrase to the end of a sentence that casts a passage into stark relief, drawing out a necessary bit of pathos or comedy. New arrivals have "the typical Russian look of fatigue — acquired in the womb, marinated in that broth of disappointment." Trastevere, the neighborhood where many émigrés live as they await word of their final destination, "bore a distinct resemblance to Old Riga: dignified and ramshackle; three-story buildings; medieval streets, narrow and constricted, conducive to the spread of plague."
The Free World has had a long gestation (Bezmozgis's first book, the excellent story collection Natasha, appeared in 2004), and it shows the mark of craft and of careful editing. It bristles with piercing insights about what it means to be a stateless person burdened by the numerous compromises and small betrayals endemic to Soviet life. If this were the work of an older novelist, we'd say it was the happy result of someone working at the height of his powers; but for an author who has a couple years before he turns 40, such a book portends greatness.