Please send all review copies, submissions, and mail to:
ZYZZYVA
57 Post Street, Suite 708
San Francisco, CA 94104
(415) 757-0465
Masthead
Editor

Laura Cogan

Managing Editor

Oscar Villalon
Assistant Editor

Zack Ravas

Print Production

Josh Korwin

Deputy Director

Laura Howard

Copy Editor

Regan McMahon

Contributing Editors

Interns
Identity & Website Design
Board of Directors
If you have any questions or comments about any part of ZYZZYVA, there are two easy ways to contact us: via post (using the mailing address at left), or by using this query form.
Contact Form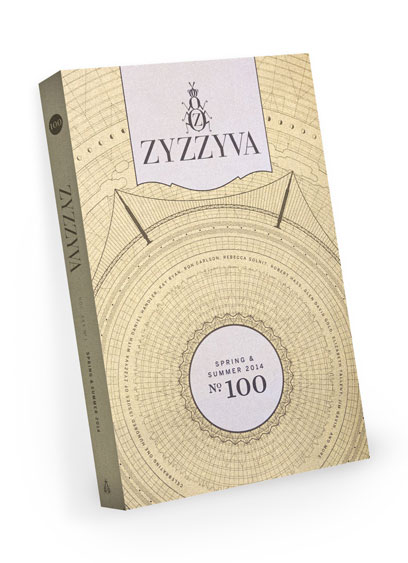 ZYZZYVA's 100
th


Issue Celebration

We are thrilled to invite you to join us in celebrating our landmark 100th issue! Join ZYZZYVA and City Lights Bookstore at the California Historical Society in San Francisco on May 8th for a not-to-be-missed party and fundraiser.

6:30 p.m.
California Historical Society
678 Mission St., San Francisco

Featuring
A stellar roster of presenters and performers including Michael Krasny, Daniel Handler, Erika Recordon, Po Bronson, Robert Hass and more.
Food, drink, and music from some of San Francisco's finest, plus a complimentary copy of Issue No. 100 for every guest.
A silent auction with opportunities to bid on decadent treats and exclusive experiences—including signed and personalized collections from Junot Diaz, lunch with ZYZZYVA's editors, and feedback on your manuscript from a prominent author.
Click here to purchase tickets and reserve your space at this special event. Our 100th Issue Celebration is now sold out! Thank you to everyone who purchased tickets—we can't wait to see you there!
About ZYZZYVA
For nearly 30 years, ZYZZYVA has served as a vital platform for the brightest contemporary writers and artists on the West Coast. As a small nonprofit, we couldn't do it without you—our readers, artists, and donors. All proceeds from this exciting event support ZYZZYVA's work toward another 100 issues. We look forward to seeing you there!