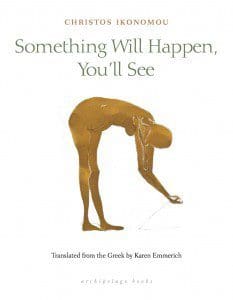 In the aftermath of Greece's 2010 debt crisis, amid the hardship in his country, Christos Ikonomou wrote Something Will Happen, You'll See (Archipelago Books, 250 pages, translated by Karen Emmerich). A recipient of some of Greece's highest literary honors, as well as praise from across Europe, Ikonomou's collection of interconnected stories focuses on people with barely a hope for attaining something better than what they've been given: a son stays up all night to watch the streets so his neighbors can get some sleep; a group of elderly industrial workers, recently laid off, huddle around an oil-drum fire outside the gates of their old job; fathers are forced to ask—forced to lie to—their children for money; whole communities are broken up like concrete foundations in an earthquake.
"I don't want to write just about Greeks and Greece," said Ikonomou in an interview with Nasslit.com, "I am trying to look beyond the walls of language and my country, I'm trying to reach out to Americans, to whoever is interested in my story, and I'm trying to write about human beings, what it means to be human and what it means to try to be human in an inhumane environment."
Always get the last word.
Updates and special offers straight to your inbox.
Keep up with the latest from ZYZZYVA by subscribing to our newsletter.
By subscribing, you agree to our Terms of Use and acknowledge that your information will be used as described in our Privacy Notice.
Ikonomou's writing erupts from the tension between the impulse to convey the poverty around him and his belief that words can never fully express what's happening. "In the short-story form you have to listen to the echo of the words," he told Nasslit.com. "The most important things in our lives we cannot put into words. There are a lot of things, but you can't just talk about them. The moment you start to talk about them they lose their magic, they become just words."
In his book, Ikonomou engages with a word's ability to mean different things, exposing their banality in the way he arranges them. For example, the refrain "Sir, the girl said. Would you put the crown on our Jesus' head?" breaks up one story every page or so. The words are introduced without context, like empty sounds, but develop meaning until they ricochet like bullets in a tiny room. Ikonomou's style comes to symbolize the state of the people he writes about—always on the verge of bursting open, aching to express what's beyond them. And his dry prose—which he invigorates by giving it the just the right twist, contorting key phrases, moments, and words—evokes the dearth of economic plight.
Throughout, repetitions of description, phrasing, characters, and stories—yellow lighting, the smell of bitter citrus trees, a name mentioned in passing in one story belonging to a protagonist in a later one—connect apparently disparate parts. This coupled with the shared setting of Piraeus, a port southwest of Athens, makes the book a sort of novel.
Reading Something Will Happen, You'll See, it's no surprise to learn Ikonomou loves American literature's straightforwardness and clarity. Like the sparsely worded novels of Cormac McCarthy, one of those American authors Ikonomou loves, Something Will Happen lacks quotation marks entirely, forcing the reader to distinguish dialogue from description or thought; it also raises the question of which parts of the narrative are real or just dreams and memories. And it also creates the illusion of normalcy and uniformity, allowing the individuality of characters to pop beyond the words themselves. Then there's how the lack of quotes reflects how the economic strife hanging over everything gloms together the edges of reality, both in actuality and in the book itself.
Poverty unleashes creativity among the people in these pages; one protagonist's mind teems with unending symbolic turns, even the shape of the dirt on her partner's fingernails becomes as ominous and inescapable as "black scythes." Poverty pushes them to obsess about their fantasies, to imagine them so thoroughly that the metaphors of their lives start to seem real. At one point, a character thinks a frowning painting on a mooring is so sad it needs help: "It's an awful thing to have a noose around your neck. Even for a painting, for a fake person, it's an awful thing. Really."
Retaining one's humanity through crises is not the same as surviving them, so that even when people in Ikonomou's book get a grasp of the situation and have emotional clarity, the end still isn't in sight: drinking with his fellow workers at a cafe amid countrywide layoffs, an old man makes the point that "[w]e talk and talk and the more we talk the better I understand that what binds us together are the things we're afraid of and the things we hate. How did we end up like this?"
The plethora of voices in Something Will Happen, You'll See are so compelling that you're made to live the characters' convictions—you're as duped and strung along as they are by the world's unpredictable motions. Ikonomou executes his intention so subtly that you don't even realize you're inhabiting the past, or a character's memory, or are in a tale being told to the protagonist of the last story, until much later. The seamlessness with which the past breaches the surface of the present is astounding. Reading this book makes you read into yourself.