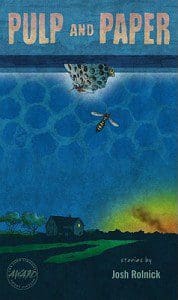 In his first book of fiction, Pulp and Paper (University Of Iowa Press; 192 pages), Josh Rolnick offers a collection of eight stories dealing with those various moments of transition in our lives from which there is no return — moments that require his protagonists to confront their losses, weaknesses and failures.
"Funnyboy" follows the attempts of a father to avoid confrontation and possible resolution with the teenage girl who accidentally killed his son in a car accident. Through him the reader experiences what it is like for those who refuse to move on, who refuse to cross over and begin a new stage of life. The death of a loved one comes up again in "Innkeeping," when a teenage boy, Will, must cope with the possibility of his mother beginning a relationship with a new man after the death of his father, a death that has haunted his and his mother's lives. Unlike "Funnyboy," we see through Will what it is to navigate such hardships to reach, hopefully, a restored state of living.
Always get the last word.
Updates and special offers straight to your inbox.
Keep up with the latest from ZYZZYVA by subscribing to our newsletter.
By subscribing, you agree to our Terms of Use and acknowledge that your information will be used as described in our Privacy Notice.
Rolnick also examines old age. In "The Carousel," elderly Mr. Polonsky operates a decrepit and lonely carousel on Coney Island, which is seeing so few customers he has already resolved to close it down for good. "The Carousel" examines the passing of time as we grow to live it, and how the world around us moves on. Meanwhile, the title story, "Pulp and Paper, "observes the life-changing consequences compassion can have.
The tone of each story may vary, but Rolnick's writing remains excellently concise and detailed. The writing is fluid, the pace moves pleasantly, rarely ever dragging, despite the slow and thoughtful episodes of the protagonists. In addition, and most importantly, with each and every story Rolnick brilliantly crafts characters that are effortlessly sympathetic, if not likable, despite their flaws
Though the book may deal with some emotionally heavy matter, it mostly refuses to showcase the harsher realities associated with death and aging. Some may choose to see the stories as sentimental because of this. But Rolnick's writing is genuinely compassionate, and there's nothing phony about his characters. If anything, his story collection is a reassuring reminder of how we can survive the inherent suffering of life.