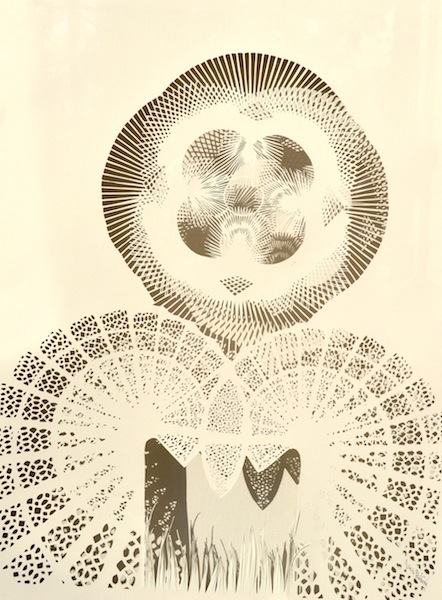 Initially, the works comprising Tahiti Pehrson's solo show, "Theta Pegasi," at Ever Gold Gallery appear doubly insubstantial: these monochromatic paper canvases sliced into intricate geometric designs, often layered three-dimensionally toward the production of still more ephemeral shadows, declare their own fragility. Were it not for their glass cases, a San Francisco wind could easily devastate the show. Intellectually, too, the pieces seem to lack heft. They are astounding technical displays – the craftwork of a probably obsessive and detail loving mind – but that's about it.
Always get the last word.
Updates and special offers straight to your inbox.
Keep up with the latest from ZYZZYVA by subscribing to our newsletter.
By subscribing, you agree to our Terms of Use and acknowledge that your information will be used as described in our Privacy Notice.
Fortunately, before long, Pehrson's works induce a rug-pull on our perceptions. What begin as innocuous patterns become unnerving. Peaking disquiet gives way to revelation upon reaching the narrow gallery's deepest point. There, you find a heaping pile of X-ACTO knife blades, and suddenly the surrounding work appears as violent as it is beautiful, as threatening as it is delicate. (With Pehrson's three-dimensional sculpture pieces in particular, the chilling likening of paper to skin is hard to resist.)
As Pehrson's artistic process reveals itself to be a violent challenging of his medium (he precisely carves many of these works to the brink of obliteration, it seems), the pieces themselves in turn allude to two other often-cutthroat places: the natural world and the social world. Vaguely organic looking patterns come to evoke not only the backs of seashells or the crosshatching on leaves, but the geometry of nature's prickly or many-toothed defense mechanisms. (A cutout depicting a snake – one of the show's more plainly representational and less interesting works – of course suggests its unseen fangs.) A star comprised of wooden skewers could as easily be seen as a beautifully symmetrical religious symbol or architectural design as it could a torture device.
In this vein, the gallery suggests that in "referencing Guilloche patterns – a system used to produce geometric symbols seen on currency throughout the world – these works navigate the complexities and hidden meaning that are ever present in international power systems." That's a very big, very theoretical claim, and one that necessitates considerably more background than the works themselves provide. In any case, it is clear that, for one reason or another, these sort of patterns continue to assert and reproduce themselves – in nature, in society, and in art.
"Theta Pegasi" runs through July 28 at the Ever Gold Gallery, 441 O'Farrell St., San Francisco.