Each year thousands of children are left behind as their parents cross the border into the United States looking for work. Often these children set out on journeys of their own in hopes of finding their parents. These terrifying treks, and their devastating effects on families, have been chronicled by others.
In 2006, journalist Sonia Nazario wrote a spellbinding account of a young boy's trek from Honduras to the United States in Enrique's Journey: The Story of A Boy's Dangerous Odyssey to Reunite With His Mother. In 2009, the documentary film Which Way Home captured the plight of two young Ecuadorian boys crossing the U.S.- Mexico border "to pursue their dreams of having enough to eat."
Reyna Grande's remarkable story, The Distance Between Us: A Memoir (Atria Books, 336 pages) is a worthy successor to these previous immigration sagas. Grande chronicles her early life of dire poverty, following her father's, then her mother's departure for the United States; her illegal border crossing years later with her father; her tumultuous and painful early years in the United States; and her success as a writer and teacher.
Early on in her story, Grande captures the pain and confusion she experienced as a young child attempting to understand her abandonment. "I had to keep on believing that my parents left me because they loved me too much," she writes, "and not because they didn't love me enough." Once across the border and living in California, life was not quite as she imagined. Her parents were no longer a couple. Her father's new girlfriend was indifferent toward Grande and her two siblings. Her father's increasingly excessive drinking resulted in family violence and abuse. Still, Grande persisted in forging a new life. Though extremely introverted, the author found success in school and music. She became a U.S. citizen at 13-years-old. Books became her refuge and she began writing.  While attending Pasadena City College with the help of a mentor, Grande discovered Chicano/Latino literature. "I found myself reading about characters that lived in a world similar to my own, characters with the same skin color as mine. With the same heartaches and dreams." She graduated from the University of California, Santa Cruz, in 1999, becoming the first person in her family to graduate from college. And in 2003, Grande was named as a Pen Center USA Emerging Voices Rosenthal Fellow. Her first novel, Across a Hundred Mountains, received the El Premio Aztlán Literary Award in 2006 and the American Book Award in 2007.
We talked to Grande about her life and her profoundly moving and exquisitely written memoir—a chronicle filled with bone-jarring descriptions of poverty, family trauma and razor-edged reflections but ultimately about  one woman's graceful persistence to make a better life for herself and others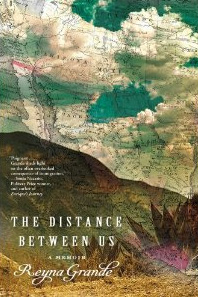 ZYZZYVA: The title of your memoir, The Distance Between Us, explores the idea of distance in several ways. Would you elaborate?
Reyna Grande: The first "distance" I'm referring to is the physical distance. My parents and I were about 2,000 miles apart. They were in the U.S. and I was in southern Mexico. The second is the emotional distance, a result of our separation. Once we were reunited, my parents and I had a difficult time reconnecting. Also, my experiences as a child immigrant in the U.S. created another kind of distance—I assimilated into the U.S. culture and learned to navigate within my new country, whereas my parents struggled to fit in and learn English. The result was that those experiences—speaking English better than I speak my native tongue, going to school, pursuing writing and music, etc.—those were things that I couldn't quite share with my parents and it made it harder for us to find common ground.
Z: You evoke incredible images of your childhood home—Iguala, a poor, mountainous town in the state of Guerrero—especially those related to food. Would you talk a bit about those memories?
RG: My memory of food is basically the lack of it. While I lived with my father's mother, she hardly ever fed us. Not because she didn't have the money, our parents never failed to send some every week. But because she didn't really want us in her home and this was her way of showing it. My siblings and I ate nothing but beans and tortillas with her. We learned to scavenge for food in her backyard—eating leaves from the plum tree (we sprinkled them with salt!), picking whatever fruit was in season, digging up roots, etc. We learned to survive in that backyard.
While living with my other grandmother, we were in a worse financial situation, because at this point we weren't getting any money from our parents. But we had an abundance of love from this grandmother, and I think that made a difference. Sure, there were times when we had nothing for breakfast but tea made from boiled lemon leaves and a piece of bread, but my maternal grandmother never made us feel like a burden.
Always get the last word.
Updates and special offers straight to your inbox.
Keep up with the latest from ZYZZYVA by subscribing to our newsletter.
By subscribing, you agree to our Terms of Use and acknowledge that your information will be used as described in our Privacy Notice.
Z: What were your initial impressions of the landscape in the United States?
RG: Ah, what a difference! To go from dirt roads to streets that seem to never end. To go from shacks made of bamboo sticks to buildings that seem to almost touch the sky.
But one thing I loved while living in Highland Park (a community in northeast Los Angeles) was its proximity to the San Gabriel Mountains. It reminded me of Iguala. The mountains and the whistle of the midnight train that traveled parallel to Figueroa Street reminded me of my country. It made things less foreign to me.
Z: You write that when you were in eighth grade, each Friday you would stop at the Arroyo Seco library and check out as many books as you could. You mention reading the novels of V.C. Andrews, especially Flowers in the Attic, and getting a copy of The Moths and Other Stories by Helena Maria Viramontes on your 19th birthday, then soon reading The House on Mango Street by Sandra Cisneros. How did these books, and the woman who gave them to you, affect your life? 
RG: It was difficult to find books in the YA section of the library that reflected my own experiences. So mostly I read books like Sweet Valley High. The books by V.C. Andrews, however, did contain things that were familiar. Although she wasn't writing about my culture, I immediately connected with the plight of the children when their mother leaves them at the mercy of their evil grandmother, as in Flowers in the Attic. In Heaven, I knew firsthand the poverty in which those children lived in. In My Sweet Audrina, I recognized the longing Audrina felt for her father, and her desire to please him, for that was exactly how I felt with my own father.
But it wasn't until I got to Pasadena City College that I was introduced to Chicano/Latino literature. My professor, Diana Savas, was responsible for that. She gave me the first book I'd ever been given—The Moths and Other Stories. And she introduced me to the works of Sandra Cisneros, Isabel Allende, and others.
By giving me these books, Diana taught me that there were people like me—Latinos—who wrote books. Diana often told me that I could be one of them. And it was because of her that I decided to pursue a degree in creative writing.
Z: What authors inspire you today?
RG: I'm still in love with Chicano/Latino literature, especially books written by Latinas. But I also love to read multicultural books. My favorites were written by Jhumpa Lahiri, Thrity Umrigar, Gina B. Nahai, Laila Lalami, Jamaica Kincaid.
Z: You were an accomplished band member in high school, winning various awards and marching in the Rose Parade three times. What did playing music bring to your life?
RG: Like writing, music gave me a way to express myself without having to speak and have people laugh at my "wetback" accent. Also, being a left-hander, I am a very creative person and music gave me a chance to explore that creativity. Music also gave me a way to connect with my new culture. When I first arrived in the U.S., I was put in a corner of my classroom because I didn't speak a word of English, and I was taught by my teacher's assistant. I didn't want to spend my life stuck in a corner. I didn't want to be on the outside looking in. Music gave me the chance to be part of something. By participating in the Rose Parade and other events, such as football games, I felt a sense of belonging.
Z: You credit your father, despite all the pain he caused you, for insisting his children obtain an education. What hopes did he have for you?
RG: My father was a troubled man, but he gave me many gifts—he made me a survivor and he taught me the value of higher education. In his sober moments he talked about the dreams he had for his children—going to college, having a good career, being homeowners, having money for retirement. Those dreams became my dreams and now I have a B.A. and an M.F.A. in creative writing, I'm a published author, I bought my first house when I was 26, and I've never been a burden to anyone because I can look out for myself.
Z: Talking to your father about gardening was one topic you could safely engage him in, especially near the end of his life. What was it about gardening that allowed for that? Do you have a garden now?
RG:  There were too many painful subjects that I wanted to avoid, especially at seeing my father succumb to liver cancer. Gardening is a passion we both share. It was one of the few topics that didn't unearth any negative feelings. I have always tried to find common ground with my parents, so gardening became a big deal for me. I have a garden in my house. This summer, I have tomatoes, corn, squash, carrots, artichoke, Swiss chard, and lots of herbs. My fruit trees include peach, nectarine, plum, fig, orange, apple, and avocado. I also have a butterfly garden. Before my father became too ill, he would come over to my house and we would sit in the patio overlooking the side garden. He loved my raised beds and we talked about me going over to his house to help him make some raised beds for his garden. But then he had to stay in the hospital for several months and we never did our project because he never came out.
Z:  In your memoir, you recount the toll immigration took on your family. You note the cycle of leaving children behind in Mexico, as parents search for work across the border, has not abated. What are some of the consequences of this?
RG: The main consequence is broken families. I would like for immigration to be a choice, not a necessity, but oftentimes it is the only alternative. Although it is true that immigration is slowing down, there is something else that is happening more and more—nowadays, what you hear in the news is about parents getting deported and their children ending up in foster care or being raised by relatives as a result.
Immigration or deportation, either way, it is the family that is affected by it, and always, it is the children that suffer.
Z: Eight years after immigrating to the United States, you returned to Mexico to visit family when you were 17. You write, "As I walked from Meche's house, I realized that there was something I had lost the day I left my hometown. Even though my umbilical cord was buried in Iguala, I was no longer considered Mexican enough. To the people here, who had seen me grow up, I was no longer one of them." Why? What changed? 
RG: As I wrote in the memoir, when you come from the U.S. people look at you different and they treat you differently. The moment I left my hometown to come to the U.S. everything changed. I was one of the "lucky" few that escaped the poverty and the limited opportunities there. When I returned to Mexico after eight years of living in the U.S., I was a different person. My dominant language now was English, not Spanish. I was in my senior year of high school, whereas most of my friends and family only received a primary education. I had seen and lived things that they could only dream of.
Every time I go to Mexico I am treated like a tourist, an outsider in my own home country. And how can I blame them for treating me so? In many, many ways, I am more Americanized than I dare to admit.
But I love going to Mexico. It keeps me humble. It makes me appreciate what I have.
Z: After writing two novels dealing with the perils and rewards of the immigrant experience, what prompted you to write your family story?
RG: I actually started to write the memoir in 1997, when I was a junior at UC Santa Cruz. But I couldn't do it. The pain was too raw. And I couldn't bear the thought of having to go back there and live everything all over again. So I turned my story into a novel, and that is how Across a Hundred Mountains was born. By fictionalizing my story, I was able to put some distance between myself and my emotions. But I never gave up the idea of someday writing the real story.
When I graduated from UC Santa Cruz I became a middle school teacher. I taught ESL to immigrant children. Most of them had gone through a similar experience as I had. Before, I hadn't given much thought to my experience of being left behind in a larger context. Then I realized that it was an experience that was all too common, yet it wasn't part of the conversation about immigration.
Once I became a published author, and I began to do presentations at middle schools, high schools, and colleges, I found myself becoming an advocate for higher education. In my talks I always made sure to encourage those young kids to never give up on their dreams, and I would share with them my personal story. So in 2009, when I finished my second novel and was thinking about my next project, I finally decided to go back to the memoir
Z: What have I not asked about that you would like readers to know?
RG: If they aren't already, to become supporters of the DREAM Act.
The only difference between me and the DREAMers— undocumented youth who were brought to the U.S. by their parents when they were children—is that I was able to legalize my status when I was 13 years old, whereas they have not been given that chance. If their story is anything like my story, I believe they have suffered enough and continue to struggle because of their lack of legal status.
I deeply believe it is time to end their suffering and allow them the opportunity I was given—to give back to society and repay everything it has done for me.